April 26, 2013
2013 Heritage Tree is historic cedar at Randolph College
A large tree that has graced front campus more more than 100 years was honored as Lynchburg's Heritage Tree of 2013 today.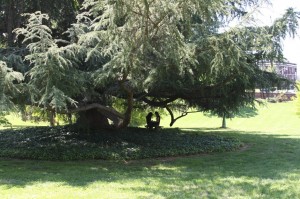 The award was announced in an Arbor Day ceremony at Lynchburg's Sandusky Middle School. Mark Gilbert, Randolph's grounds supervisor, accepted the award on behalf of the College.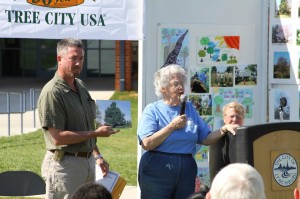 Marge Denham speaks about the deodar cedar tree at Randolph College,
named the 2013 Heritage Tree, as Mark Gilbert shows a photo of the tree.
The honored tree is a deodar cedar that stands in front of Main Hall. A few massive branches sweep close to the ground, but there is enough room for a bench just under the tree to provide a great spot to relax, read, and enjoy the beauty of front campus. Gilbert and a forester from the city estimate that the tree is 120 to 140 years old—possibly older than the College.
"You cannot miss it—it is an absolutely gorgeous tree," said Marge Denham, past president of the Lynchburg Tree Stewards, who presented the award to Gilbert.
Denham said the tree was nominated for the annual award last year. It was selected as Heritage Tree for its beauty and its size. "So many of the deodar cedars in our area are large, but we had a frost a number of years ago and it broke the tops off many of them. But yours was not injured," she said.
After the Arbor Day ceremony, sixth graders at Sandusky Middle School helped plant trees around their campus.
The Cedar on front campus is just one of many trees that help beautify Randolph College. This afternoon, Randolph students in an organic gardening class planted fig trees on a hill overlooking the College's tennis courts. Ludovic Lemaitre '11, Randolph's sustainability coordinator, said the fig trees should bear fruit within two years.
Tags:
environmental studies