February 23, 2012
Bunny Goodjohn wins poetry prize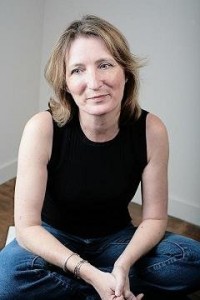 Bunny Goodjohn teaches English, writes poetry
and fiction, and recently won a poetry prize
Bunny Goodjohn '04 answered what she thought was a routine phone call, only to find out about an exciting honor she had not expected.
"I answered the phone and discovered I was on a conference call with the Reed Magazine editorial staff," said Goodjohn, who teaches English and directs the College's writing program and tutoring services. "The editor told me the good news."
Goodjohn learned that she had won the Edwin Markham Prize for Poetry, a prize sponsored by Reed Magazine and San Jose State University. The award comes with a $1,000 prize and publication in the magazine. Then the editors added to her surprise and delight by reading the remarks that the contest's judge, Kim Addonizio, had written about Goodjohn's work. (Addonizio is a poet whose work Goodjohn admires.)
Addonizio praised Goodjohn for "an ability to tell a story not just for the sake of narrative, but to get at a deeper truth; sentences that were complex and layered, as well as musical; and a sense of real presence on the page."
"To have her consider my work and find it worthy is such a tremendous honor," Goodjohn said.
Goodjohn submitted several poems to the contest, including two that she wrote during graduate school, one that she wrote after a camping trip in West Virginia two years ago, and one inspired by Paula Rego's painting Family. The newest poem she entered, titled "Running 24 North," came to her after she saw two stray dogs stop traffic outside Rustburg, Virginia.
Goodjohn studied writing and wrote a novel during her time at Randolph, and then she completed a Master of Fine Arts degree at the University of Southern Maine. She then returned to the College as an English professor.
Her work has also been published in The Cortland Review (in 2002 and again in 2004), The Texas Review, Connecticut Review, and Zone 3.
Tags:
bunny goodjohn, creative writing, English, faculty achievements, poetry