October 29, 2011
Buddhist monks finish mandala and hold closing ceremony at Randolph College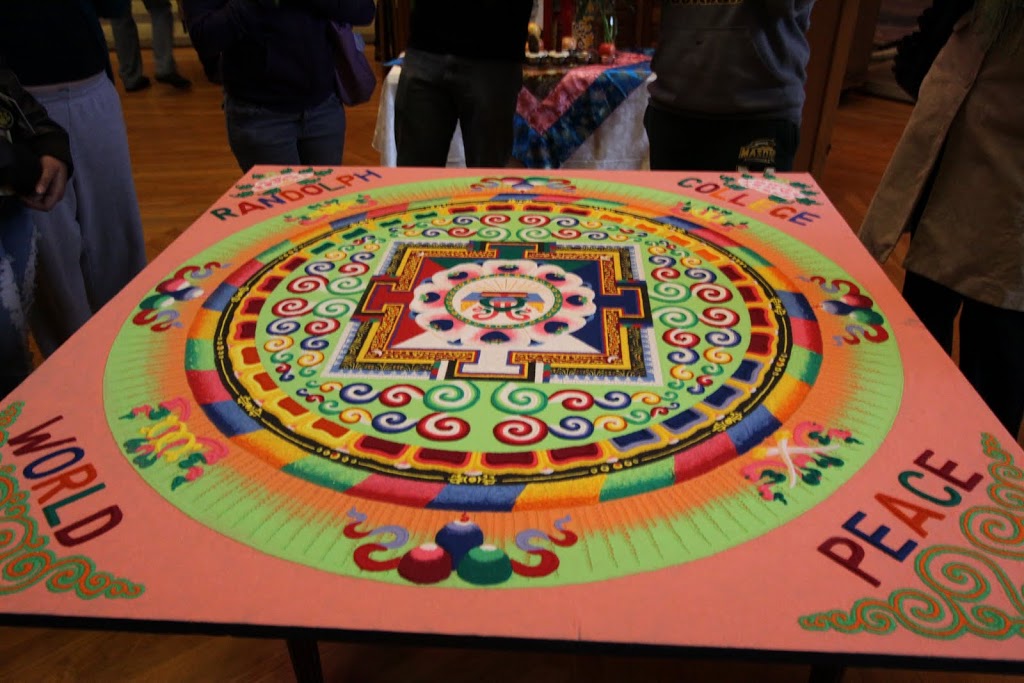 It took more than 30 hours of painstaking, back-breaking labor to create the beautiful sand mandala in the Randolph College chapel, and only a few minutes to destroy it.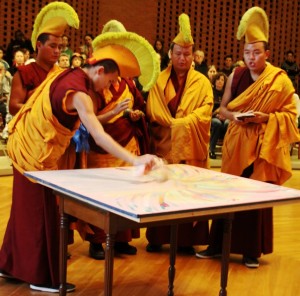 Friday afternoon, the monks of Tashi Kyil monastery, in Dehra, Dun, India, conducted a closing ceremony with more than 150 people present.
In chanting and music similar to the opening ceremony (available in video here), they consecrated the mandala and prayed for permission to dismantle it. Then they slowly wiped their hands across the 5′ x 5′ surface.
Soon, there was nothing left but a blue board with pale colored sand left on it.
The monks swept the sand into a bowl, and passed some of it out in individual bags to people who were present. The sand is said to have healing powers.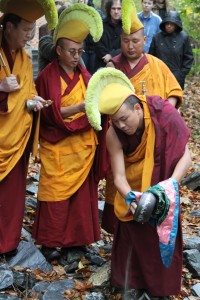 Then they walked across campus to a wooded creek that empties into the James River. There, they poured most of the remaining sand into the water. According to Buddhist philosophy, doing this can bless animals in the water and also carry the healing powers of the mandala sand throughout the world.
They kept some sand to carry to the AIDS Walk in Washington, D.C., the next stop on their journey.
Throughout this week, the monks have worked tirelessly in the chapel, lived in one of the College's dorms, interacted with students and community members, explained their beliefs, and sold Tibetan goods to raise money for their monastery. People of various religious traditions marveled at their dedication to create a beautiful work of art with religious significance.
In one week, they became a part of the College community, and they will not be forgotten.
Tags:
asian studies, comparative philosophy, mandala, medicine buddha mandala, monks, religious studies