April 9, 2015
Maier hosts Slow Art Day, Bird Mobiles
Slow Art Day – April 11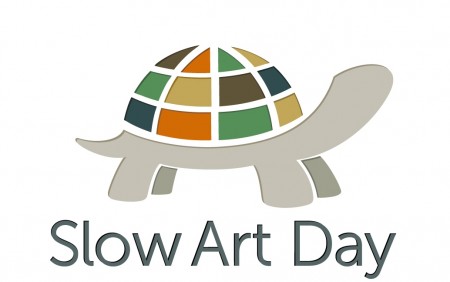 On April 11, Randolph College Maier Museum of Art is joining museums all over the world in a celebration of Slow Art Day, an event designed to help people discover for themselves the joy of looking at and loving art. The museum will open its doors from 1 to 5 p.m. to welcome visitors of all ages to come and enjoy art…slowly.
"Many people (myself included) whiz through museums and just glance at the art because there is so much to take in," said Danni Schreffler, the Maier's office manager and public engagement coordinator, who proposed incorporating Slow Art Day into the Maier's 2015 program. "What makes Slow Art Day unique is that this is a way to encourage our visitors to really slow down and observe the art, reflect on it, take in the details, colors, texture, and other aspects that you might not see if you only took a few seconds to look at it."
Visitors to the Maier on Slow Art Day will receive a handout with a list of artworks in each gallery to guide them through the Museum. They can choose any five artworks from the Museum's galleries and spend ten minutes each looking at them. As each participating museum is expected to come up with an activity or event that fits with the Slow Art Day theme, the Maier Museum also encourages visitors to create poems inspired by the artworks on exhibition, which will be featured in the Museum's ekphrastic poetry collection at http://maiermuseum.org/ekphrastic/  . If visitors would like to participate in this ekphrastic aspect of the event, there are ten writing prompts on the back of the handout to assist them in their creative process. To wrap up Slow Art Day, there will be an optional follow-up discussion at Mangia at 5:15 p.m. (RSVP required).
While Slow Art Day has been running since 2008, it is the first time the Maier Museum has participated in this worldwide event. "We hope to motivate people to visit the museum, to help visitors to practice slowing down to look closely at the details of a piece of art," said Schreffler. "And to respond to the art by finding connections and inspiration that are unique to them."
Bird Mobiles – April 12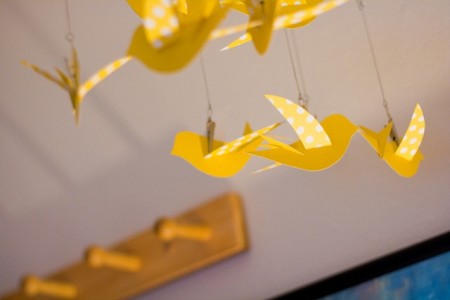 To offer the community a never-ending weekend full of art activities, following Slow Art Day, on Sunday, April 12, 2 p.m., the Maier Museum is holding Bird Mobile, a family program where children (as well as adults) can have fun making their own bird mobiles inspired by the Museum's Aves exhibit. Admission is $4 for Maier Museum members and $5 for non-members (All materials provided).
Kristin Reiber Harris, a docent who has run several family programs for the Maier Museum, is the brain behind the event and will be leading the workshop for the young eager artists. Using only tree branches, strings, papers, and crayons, Harris will guide the little participants in making their own bird mobiles and decorating them as much as they like. In case participants prefer a different option, Harris can also teach them how to make bird kites.
Danni Schreffer, The Maier's office manager and public engagement coordinator, hopes the participants will have a lot of fun while learning more about the connection between art and science as they create models with their own hands. "The Aves exhibit includes bird specimens from the Natural History Collections as well as scientific bird studies and sketches, such as Marsh Wren by John James Audubon," she said. "One obvious connection is that Audubon was an artist and he was a scientist, and I hope that is illustrated to the kids who come to the program. They will be learning about birds and a little science, but also creating representational bird mobiles using their own creativity."
Tags:
Art, Maier Museum of Art at Randolph College