April 8, 2015
Spring Dance Concert showcases student, professional choreography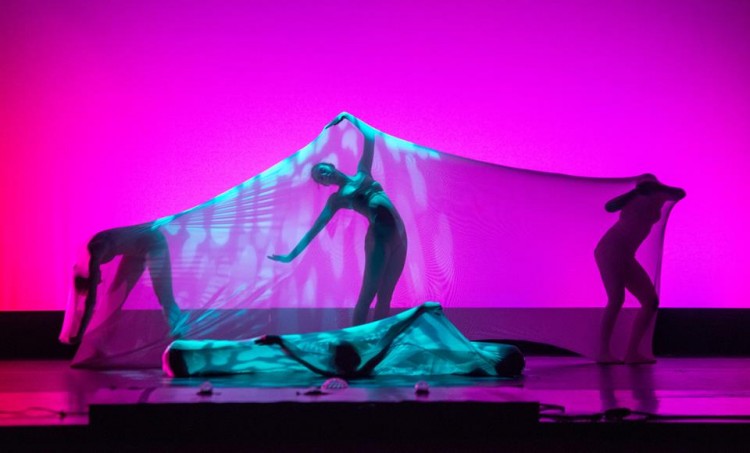 This weekend, Randolph College Dance Department presents the annual Spring Dance Concert in Smith Hall Theatre, April 9-11, at 8 p.m. Featuring a wide range of themes and styles, the dance performance includes choreography by both professionals and senior majors. Admission is $8 general, $4 students, and free for children ages 12 and under.
The concert includes eleven performances, eight choreographed by professional dancers visiting from New York City, such as Takehiro Ueyama and Walter Kennedy; one by Kelly Dudley, adjunct professor of dance; and two by Amanda Fischer '15 and Sara Reed '15. Lindsay Brents '16, a cast member, hopes the audience will appreciate the depth and variety of dance. "We have a lot of 'boundary pushing' pieces in this concert," she said.
The cast "pushed boundaries" by challenging their physical endurance, dealing with difficult subject matter, or experimenting with new dance styles which may be unfamiliar to them. For example, Reed's choreographed piece is about loss and grief, beautifully put together in a story about a daughter who lost her mother and how other women tried to help her move on. Having experienced loss herself and talked to others who have gone through the same despair, Reed considered her piece a personal and dark one, yet having the potential to connect people. "Grief and loss is something that can bind people who have been through it together, even though they all experienced it differently," she said.
Fischer's piece,  an abstract piece inspired by the music of minimalist composer Philip Glass, is a testimony of her growth throughout her four years at the College. Coming in as a first-year specialized in classical dance, the piece is a huge step forward to Fischer. "My piece doesn't have a narrative, which for a long time I used as a crutch for my dance and choreography," Fischer said. "I also pulled into this piece a lot of things I've learned from Pam and the visiting artists, even though they didn't come naturally to me. It was challenging but also enriching."
Not only is the concert a statement of growth for the student artists who are graduating this year, it is also an opportunity for the cast members to come closer to each other, as a team and as a family. Since last fall, the cast has been working diligently with an unflinching determination to put together the show.  Fischer, who was cast in all the pieces and has spent most of her time this year in the studio preparing for the show, said that to the students, the concert brought everyone together. "I am just amazed in awe with the group of women I am working with," she said. "I think this is a very empowering concert for us."
Tags:
dance, Kelly Dudley