November 20, 2023
Students visit Eastern Shore of Virginia for marine science field trip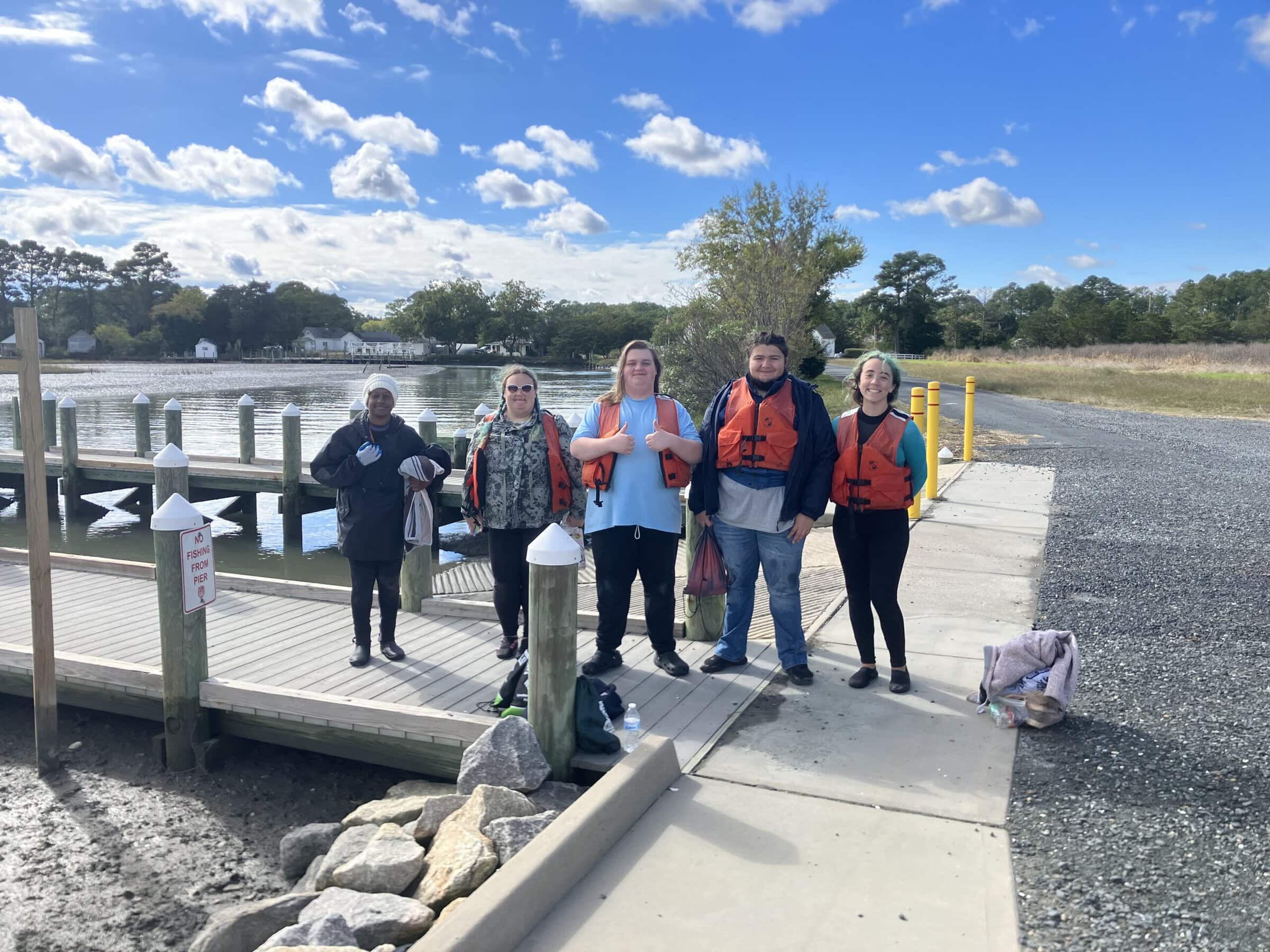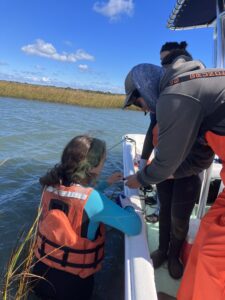 Getting students out of the classroom and into the world is a hallmark of the Randolph College experience.
"I was talking to a colleague recently who told me that she still has a picture of herself from one of her first field experiences in college," said Sarah Sojka, professor of environmental studies and physics. "Every time she looks at the picture, she remembers how proud she was to be collecting real data that day. I want to give our students that same feeling."
During fall break, Sojka took a group of students on the first field trip for the College's new marine science major. Over several days on the Eastern Shore of Virginia, they assisted scientists at the University of Virginia's Coastal Research Center with water quality monitoring.
"While we are not on the coast, I know that we can give our students robust field experiences so that when they graduate, they will know what it is like to be a marine field scientist," Sojka said. "I want students to know before they graduate where they want to fit in the world of marine science. They may be someone who loves long work days on a boat, or they may be someone who prefers crunching data, or they may be someone who prefers working in a lab. To me, the important part is that they have the opportunity while at Randolph to discover what they like."
Students got a taste of both field and lab work during the trip, which included measuring light availability, temperature and conductivity in the water, as well as taking and processing water samples for dissolved nutrients, chlorophyll, and suspended sediments.
"I think UVa might be my next step, so it was great to have hands-on experience and talk to people who do this type of research," said Aleighson Robertson '24, an environmental science major who eventually wants to go into coastal ecology.
"I love the water, and it was fun to go out with people who share that interest," she added.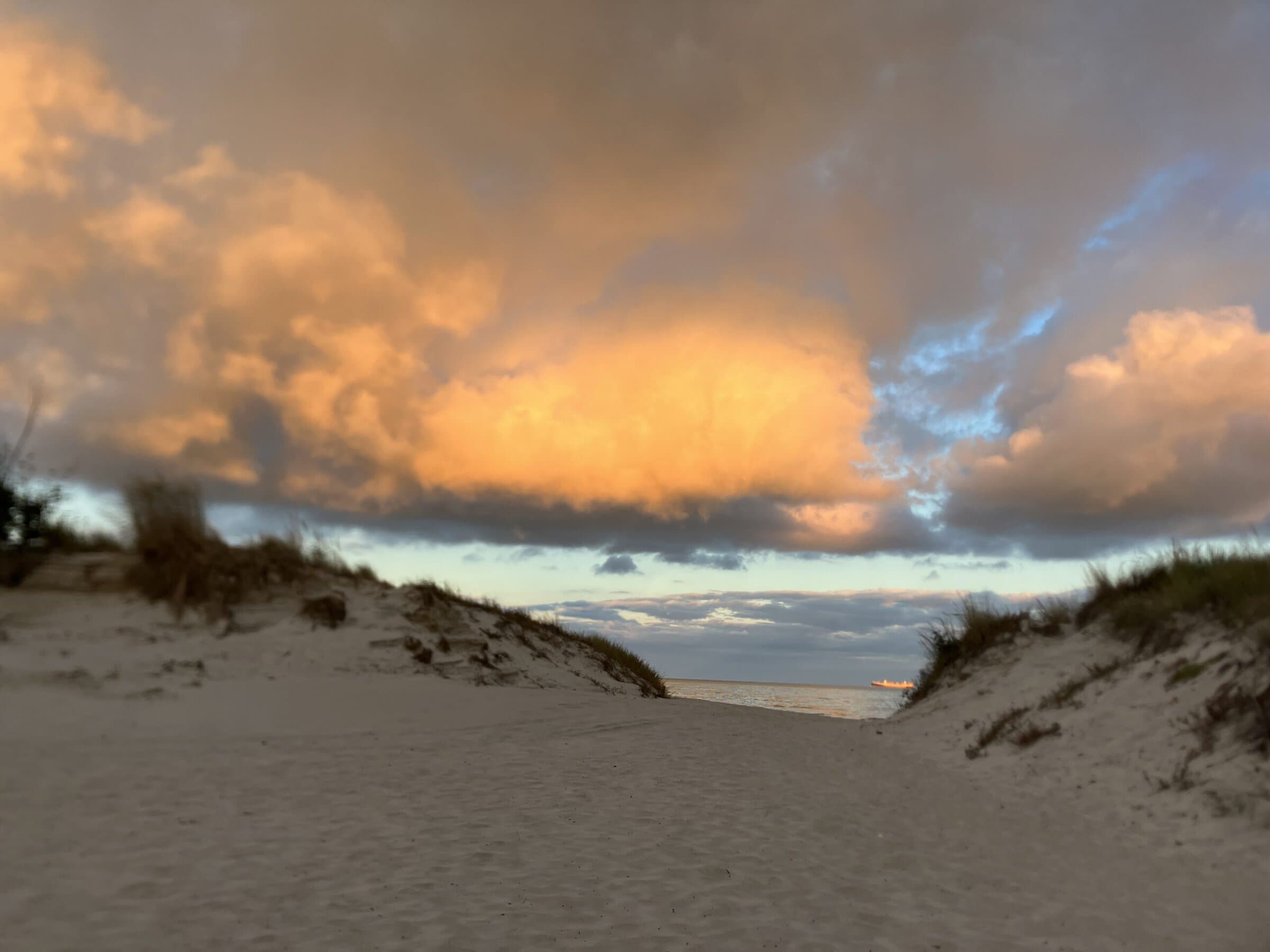 Sydney Preas '27 and Jarad Walker '27 also went on the trip, but for different reasons.
Preas, who transferred to Randolph for the marine science major, wants to work with marine animals, while Walker, who plans to major in biology or environmental studies, is more interested in plant life.
"I haven't had a lot of experience with aquatic plant life, so I wanted to see the seagrass," Walker said. "It was also nice to get that in-lab experience."
The trip also included visits to the beach at Cape Charles and the Eastern Shore National Wildlife Refuge.
"Understanding a system is so much easier if you have seen it," Sojka said. "I can tell students all day about how salt marshes function, but seeing, and smelling, a salt marsh helps really connect all of the information."
The Eastern Shore is a special place for Sojka, who has conducted research there since she was a graduate student.
"It is a remarkable place where students can see the Chesapeake Bay and barrier islands facing the Atlantic," she said. "They can see beaches and salt marshes and tidal creeks and shallow lagoons. I think it is truly a magical place, and I am so glad to be able to share it with students."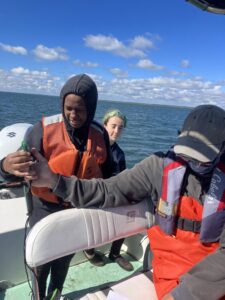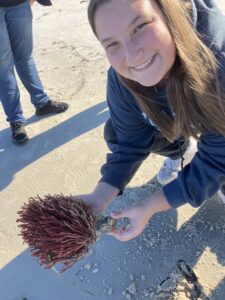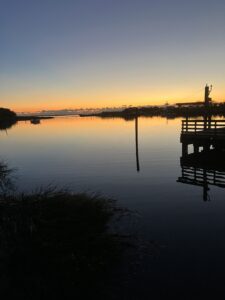 Tags:
marine science