November 8, 2023
Randolph inducts first members into Alpha Alpha Alpha Honor Society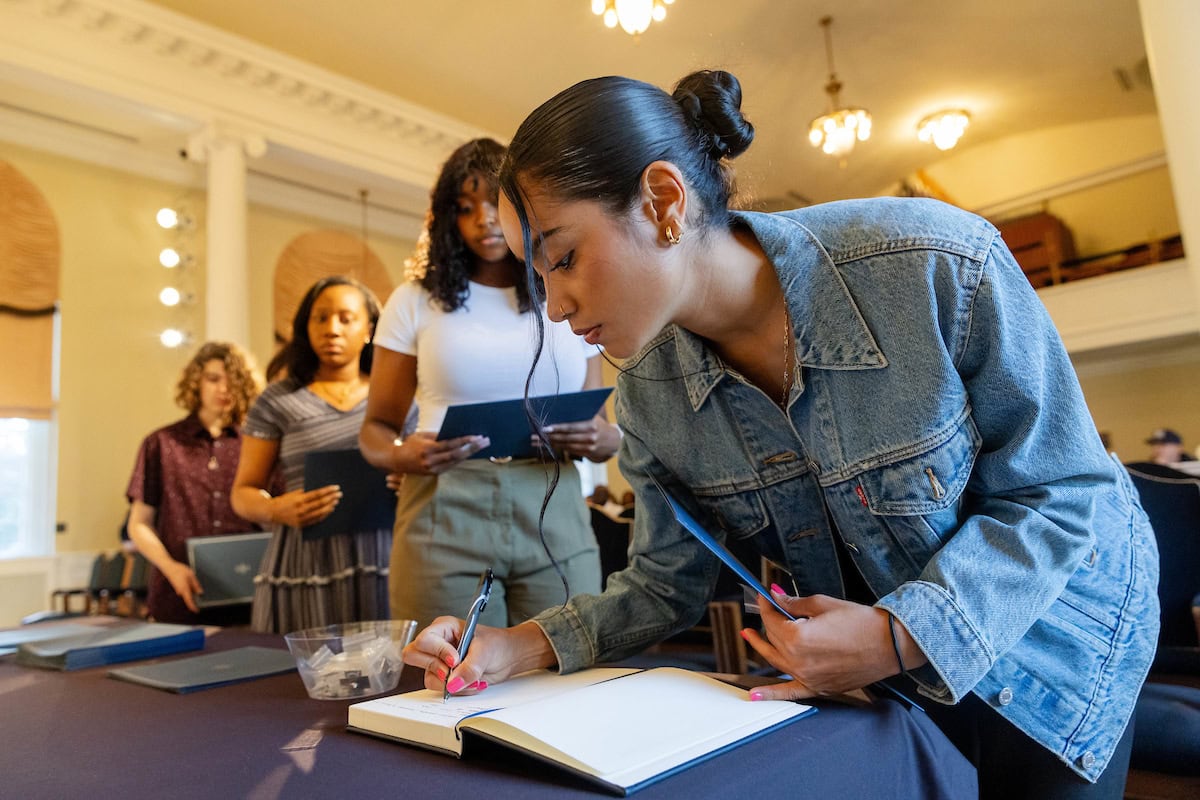 Randolph College inducted the first members of its new chapter of Alpha Alpha Alpha on Wednesday, Nov. 8, which was National First-Generation College Student Day.
Tri-Alpha, which celebrates the academic accomplishments of first-generation college students, will be led by the College's Office of Diversity, Identity, Culture, and Inclusion (DICI), and Carly Pearce, assistant director of Randolph's Master of Arts in Coaching and Sport Leadership program.
Randolph's members include students, faculty, staff, and alumni. Non-student inductees will serve as mentors for first-generation students.
"Being the first can be hard," said Jaclyn Beard, the College's interim chief diversity officer. "Being the first can be scary. Being the first can be exciting. As part of the first generation in your family to go to college, you are a source of pride and guidance to others. By accepting membership into the Tri-Alpha Honor Society, you recognize your responsibility to your family and to the future generations of firsts to finish what you started."
Pearce and Timothy Smith, provost and vice president for academic affairs, also spoke during the ceremony, along with inductee Teresa Harris '80, the program coordinator in Randolph's Office of Student Success.
"We are the trailblazers, the pioneers of our families, and our accomplishments are a testament to our resilience and our dedication," Harris said. "You have demonstrated that excellence knows no boundaries and that a thirst for knowledge combined with relentless effort can lead to remarkable success."
She encouraged inductees to continue striving for excellence and seeking knowledge while finding joy in the wonders of life, both large and small.
"Your journey is not just about academic achievements but also about changing the trajectory of your family's future," she said. "That's huge. Your success today will pave the way for future generations."
Alpha Alpha Alpha, or Tri-Alpha, was founded March 24, 2018 at Moravian College (now Moravian University) in Bethlehem, Pennsylvania. Over 100 members of the Alpha Chapter were initiated that day, including undergraduate students, faculty, staff, alumni, and honorary members.
Following the successful induction, Moravian took steps to incorporate Alpha Alpha Alpha so that chapters could be started on other campuses. There are now more than 200 spread across the country.
Members receive a pin and certificate acknowledging their membership, as well as the ability to receive mentoring from other first-gen students and, eventually, mentor younger students themselves.
"You have the potential to be catalysts for positive change, to open doors for others and to help create a more inclusive and diverse academic and professional world," Harris reminded students. "So, remember, as you achieve your hopes and dreams, make sure to hold that door open for others to walk through."