November 7, 2023
First-generation student Q&A: Gerry Sherayko
Randolph College is bringing a new honor society, Tri-Alpha, to campus.
Tri-Alpha, which celebrates the academic accomplishments of first-generation college students, will be led by the College's Office of Identity, Culture, and Inclusion, and Carly Pearce, assistant director of Randolph's Master of Arts in Coaching and Sport Leadership program.
An induction ceremony will be held on Wednesday, Nov. 8, National First-Generation to College Day.
As we prepare for the ceremony, we will be profiling some of Randolph's first-generation students.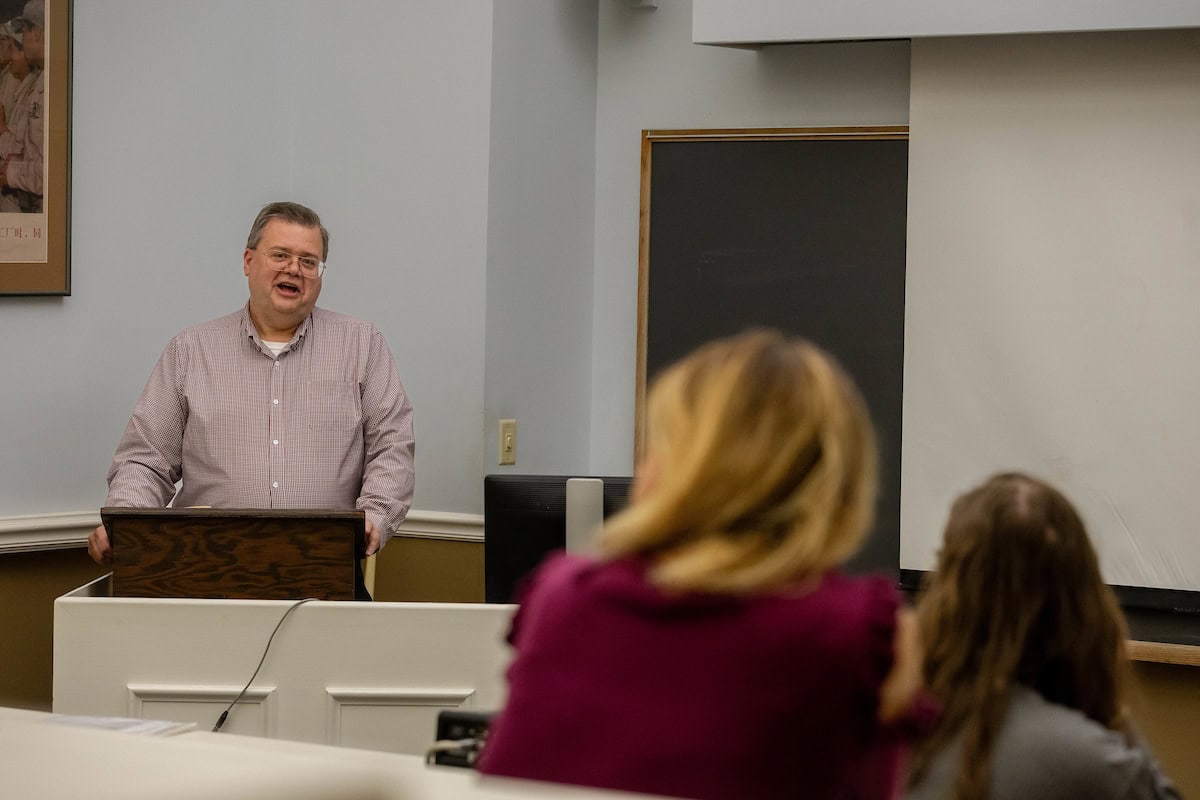 Gerry Sherayko, Theodore H. Jack Professor of History 
Hometown: Middlesex, NJ
College: Widener University (BA); Penn State University (MA); Indiana University (PhD) 
What you studied: History and political science at Widener; history at Penn State and Indiana University
What does it mean to you to be a first-generation student? 
Being a first-generation college student meant that a world opened to me that never would have happened without the opportunity to go to college. Three of my four grandparents never graduated high school because they had to go to work and the fourth did so but with a great deal of difficulty. My mother never thought about going to college. My father, who had dreams of getting a degree in chemistry, had to quit college and get a second job after my brother and I were born. All my family worked hard throughout their lives, though not necessarily at jobs they loved. So, for me, to have an opportunity they did not have, was a real privilege but also a responsibility to "get it right" and succeed.
What are your memories of being a first-gen student? 
One memory that still stands out after so many years is how clueless I was about college. In some ways, despite the lack of college education in my family, college was, at the start, just the assumed next step in life, like junior high and high school were. I did think that I wanted to be some sort of crusading defense lawyer, like the ones seen in so many television shows and movies. That is why I started out as a political science major. Needing to and expected to work, I was glad to be able to get a 15-hour a week job on campus. I ended up working in B&G for all four years, part-time during the school year and full-time during the next four summers. I loved getting to know so many more of the people who make a college run through having that job.
How did you become interested in your field of study and ultimate career path? 
While at Widener, I took courses toward my political science degree while also taking the occasional history course. At the beginning of my sophomore year, I decided to declare history as my second major. History had five professors and political science four, so I got to know them all very well. I loved that their doors were always open. By the end of my sophomore year, I had dropped the vague notion of pursuing a law degree because I decided that I loved college so much, I wanted to get a PhD. The constant pursuit of knowledge to come to some sort of better understanding of the world was certainly a consideration. But ultimately, what influenced that decision most, was that I wanted to play the same role that my professors were playing in my life then: to be a mentor, a guide, a teacher, and, if I was fortunate enough, to serve as inspiration.
What advice would you give other first-gen students? 
Stick with it. There were times that my family, except for my father, would not understand why I needed to go to college and why I did not just get a job. So, if there is not the support you need from home, find it among your classmates and the faculty and staff here. Many of us are or were first-generation students as well. No matter what, find what you love to do and pursue it.
What is special about Randolph College? 
The thing that stands out so much for me from the time I interviewed for the position that I have now held for over 25 years is how invested students can be in the College, how much they want to help it grow and succeed. I think a large part of that is the close relationships students can form with the faculty and staff here. It is those relationships that are at the core of what makes this place special.
Tags:
first-gen students