August 15, 2023
Randolph faculty recognized as among best in the nation by Princeton Review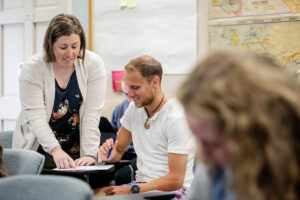 Randolph College's professors have once again been recognized as some of the best in the nation.
The Princeton Review ranked the College 23rd for most accessible professors in the 2024 edition of its college guide, The Best 389 Colleges.
Students quoted in the guide praised Randolph's faculty, whose "number one goal is always to make students better thinkers." 
"Their passion for subject matter and course content is infectious," another student said. "I look forward to each class each day and feel confident in my education. Learning is interesting and fun here, and professors are eager to answer questions and provide resources to supplement lectures and experiments." 
Randolph was also ranked 22nd for Best Health Services and was singled out as one of the Best Mid-Atlantic institutions in the 2024 Best Colleges: Region by Region web feature recognizing colleges that are academically outstanding. 
Additionally, the College continued its tradition of being named one of The Princeton Review's Green Colleges. 
The book's profile highlights Randolph's rich campus life and strong sense of community, as well as its emphasis on individuality and personal growth. 
"Everyone gets along," one student told the guide. "It's not too hard to fit in when there aren't really any labels for people."
The Princeton Review has published its Best Colleges guide since 1992 and only about 15 percent of America's four-year colleges are included. The rankings are tallied based on surveys of students who rate and report on various aspects of their campus and community experiences.
Read more about the 2024 edition of The Best 389 Colleges here.
Tags:
accessibility, green schools, most accessible professors, national rankings, rankings