June 5, 2023
Alumni Achievement Award winners announced
Two outstanding graduates received one of the College's highest honors, the Alumni Achievement Award, over the weekend during Reunion. The award is given each year to graduates who personify the value of a liberal arts education.
Virginia "Jinx" Patel '58 and Judith Phillips Stanton '65 were honored during a special ceremony on Saturday, featuring remarks from President Sue Ott Rowlands and a champagne toast.
Virginia "Jinx" Patel '58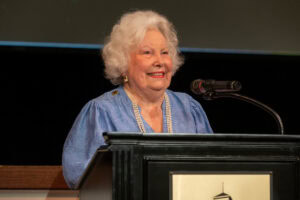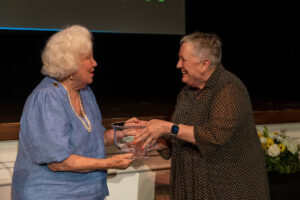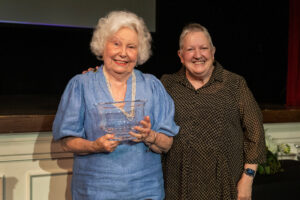 Virginia "Jinx" Broaddus Patel '58 is the founding research director of Athens Research and Technology, which supplies national and international research universities, institutions, and large pharmaceutical companies with research and diagnostic testing materials.
During her 27 years with the company, Patel served as the principal investigator on more than 50 contract research projects funded by both for-profit and nonprofit entities, including Pfizer, the World Health Organization, and the National Institutes of Health.
Her research focus is protein inhibitor-proteinase complexes and custom projects.
She studied biology at the College, earned her Ph.D. from Washington University, St. Louis, and has held research positions at the State University of New York at Buffalo and the University of Georgia.
She and her husband have lived in Athens, Georgia, for 56 years, where Patel has balanced work and raising a family with volunteering in her community.
She has served as a board member for arts organizations, economic development foundations, and other community groups. They include the Jeannette Rankin Foundation, named for the first woman to hold federal office in the United States; the Friends of the Georgia Museum of Art; the Georgia Children's Chorus; Athens Technical College's Advisory Committee for Biotechnology; the Athens Area Chamber of Commerce; Friends of the UGA Opera; the Athens Area Community Foundation, and the Classic Center Cultural Foundation, among others.
Judith Phillips Stanton '68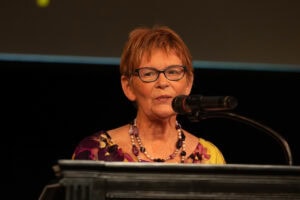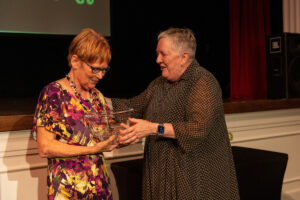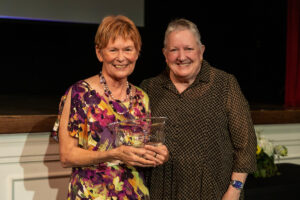 Judith Phillips Stanton '68 is an author and scholar who studied English at the College and later earned her Ph.D. from the University of North Carolina at Chapel Hill.
Her research focused on late 18th century English novelist and poet Charlotte Smith. Her book, The Collected Letters of Charlotte Smith (2004), has been foundational in restoring Smith's reputation as the first romantic poet.
Stanton, who credits her time at the College with preparing her for graduate school and her ultimate commitment to scholarship, compiled and edited the project over 26 years while she was a university professor and later an independent scholar. She also published a number of articles on Smith's life.
While teaching at The University of Wisconsin Eau Claire and Clemson University, she was a leader in establishing minor curricula in gender studies and technical and scientific writing.
Since the late 1990s, she has published four historical romance novels, a contemporary equestrian suspense novel, her first chapbook of poetry, and now teaches creative writing courses for fun.
Tags:
Vita 2023 Spring