April 7, 2023
Students participate in basket weaving workshop with Monacan Indian Nation Elder
Bertie Branham, a Monacan Indian Nation Elder, and Lou Branham, former Monacan assistant chief, sat inside the Maier Museum of Art at Randolph College on Friday, reams of honeysuckle at their feet.
As they spoke with students, both worked, deftly weaving the honeysuckle into baskets.
The College's 111th Annual Exhibition—Survivance: Contemporary Native Art, which closes next week—acted as a backdrop for their workshop.
"It's such a great way to round out the exhibition in its final days," said Martha Johnson, director of the Maier. "We talk about hands-on opportunities, and you can't get more hands-on than this—a Monacan elder right here in this space. We mean it when we say we have these unique experiences."
Both women demonstrated the traditional skill they were taught as children while sharing stories about growing up in Amherst County.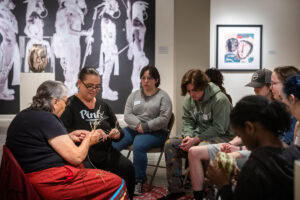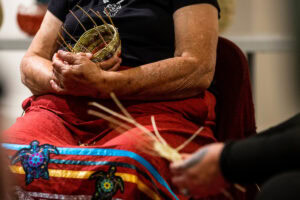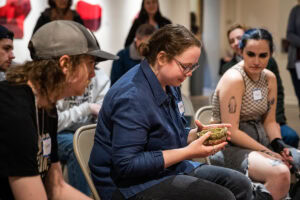 Students peppered them with questions, and several weaved their own baskets as the afternoon progressed.
"If you're an artsy person, you'll find it relaxing," said Lou Branham, now director of the Monacan Indian Nation Ancestral Museum. "And it turns out to be whatever you want it to be. It's your own creation."
Bertie, who has been weaving since she was 4 or 5, chimed in to agree: "I've never made two alike."
They usually strip the honeysuckle with a knife before the weaving begins, and sometimes, they'll dye it with juices (strawberry for red, beet for purple, a mixture of boiled dandelion and onion for bright yellow).
"When she was teaching me, I found it so fascinating," Lou Branham said. "You take all these natural elements and put them to use."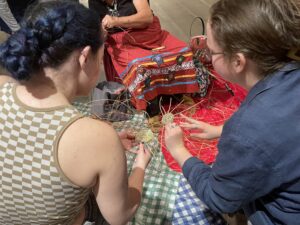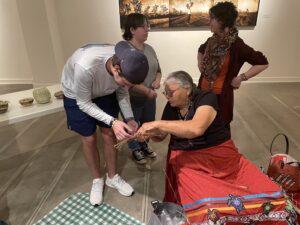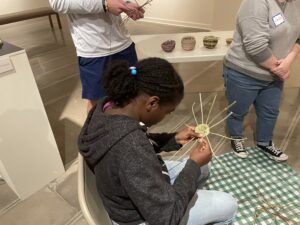 Tags:
museum and heritage studies