December 1, 2022
The Golden Girls: Two decades of travel bonds alumnae
After spending six weeks in Europe this fall, there was no rest for Judy Nicholson Frey '64 when she returned to her Westport, Connecticut, home.
"Two days after I got back, I had 14 people to entertain," Frey said. "I filled my freezer with food before I left."
That's just how it goes when you're a "Golden Girl."
Frey is among a group of more than a dozen women from the Class of 1964­−and one from the Class of 1961−who have traveled together for more than 20 years.
Since the first trip in 1999—a hike in the Swiss Alps—the group has bounced around the globe, taking a trip together nearly every year. They've hiked all over the world, from France and Italy to the coastal path of Wales, Denmark, and Nova Scotia.
They've gone on an African safari, visited the Scottish Highlands, toured Civil Rights sites in Alabama, and, the year they turned 60, kayaked on the San Juan River.
Along the way, the group of women has become a family.
"When somebody's hand is out, saying, 'Give me your hand, I'll help you up,' it's just a metaphor for whatever you do in life," Frey said. "Helping you climb a rock, it's the same thing as helping you in your career. So that really does bond you together."
That bonding began during the 1998 Reunion and one late-night conversation.
Julie Block Milstien '64, who was working for the World Health Organization in Geneva at the time, talked to classmates about her passion for hiking in the Swiss Alps.
That piqued the interest of several fellow alumnae and, by the end of the weekend, Milstien headed home charged with planning a hiking trip.
In the year between that Reunion and the trip, Milstien sent out packing lists and an exercise program designed to prepare them for the rigors of hiking in high altitudes.
Harriette Moskowitz Will '64, an avid tennis player, walked around her Richmond neighborhood daily with a backpack full of either water bottles or cinder blocks to mimic what she'd be carrying on the hike.
"I'd put on my boots and here I am, hiking up and down the street in the hot sun," she remembered.
The actual trip took place the first week in August 1999 and featured a series of daily hikes, with nights spent in alpine lodges.
"We thought we'd be strolling through the Julie Andrews' meadow," Agnes Fitts Marshall '64 recently joked, referring to The Sound of Music's picturesque setting.
The setting was indeed beautiful, but the terrain unforgiving at times.
"It really tested our stamina," Will said. "If we got to a difficult place, we all helped each other. You always looked back for the person behind you. It was just a real exercise in teamwork, with everyone looking out for each other. We all felt like we had accomplished so much by doing that."
They waited two years for the second trip, a hike that spanned areas of Switzerland, France, and Italy. Their travels continued from there, usually one a year with some domestic trips worked in between their overseas adventures.
Trips are usually planned by one of the classmates, barring the few times they've used travel companies.
They've gone out west to Santa Fe and Taos, New Mexico; Seattle and Orcas Island, the largest of the San Juan Islands of the Pacific Northwest; and Portland, Oregon.
The group has also spent long weekends in spots like the Outer Banks, Eastern Shore of Virginia, Fairhope, Alabama, and the Blue Ridge Mountains.
In 2018, they did a reprisal of the original hike in Switzerland, and their most recent adventure found them at Frey's house in Connecticut for a few days before they took the train into New York City.
"It's absolutely amazing because we have so much shared experience," Milstien said. "On the second trip, we had three people fall off the mountain. They slid down the side of an ice-covered hill. They weren't seriously injured, but we were in the middle of nowhere and we had to walk out to find help. When you've been through things like that, you bond."
Together, they share more than 20 years' worth of memories—like the time they had car trouble in Barcelona and practically ran on fumes to get to the airport. Or when Marshall's suitcase fell off the jeep during their African safari.
Will vividly remembers hiking up a steep ski slope in snow and sleet and the Hungarian goulash that warmed them all up at the lodge after.
And they all still laugh about the group of younger women in Capri who told them they wanted to be them when they grew up.
"Climbing in a castle in the south of France and there are no handrails, the knowledge of your friends behind you and in front of you, you know they've got your back," said Nancy Burch Wilkinson '64. "And it's only grown over the years."
They've seen each other through the births of grandchildren and great-grandchildren, and have lost two of their own, Kate Cudlipp '64 and Suzanne Savedge Wescoat '64.
"We all feel that sisterhood," Will said. "If something happens to one, we all feel it and gather around to give our support."
Pam Pitman Turner '64 recently found herself talking to her grandchildren about the Golden Girls.
"They wanted to know about these people I keep disappearing with," she said. "I told them we live all over the world, with all kinds of backgrounds. We're all different, and we learn from each other. Our children are learning, too, that we have to reach out. We're not in our own little bubbles."
They used to plan their trips through email. But, since the pandemic, they've been having monthly virtual meetings to talk about an illustrated journal they're putting together documenting their travels. And, of course, planning what's next.
"The common denominator is our shared background at R-MWC," said Susan Walton Carroll '64. "We always agree that the education we received was a very important part of who we became. This group of women has become an especially important part of my life. And though our travel style may change in the future, we are not finished being together. Just wait for our 60th reunion."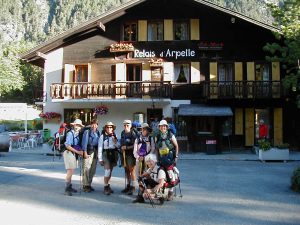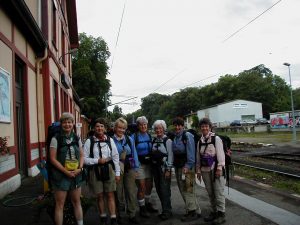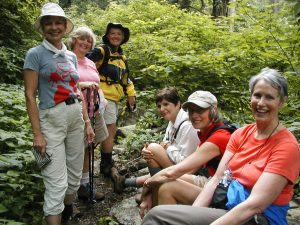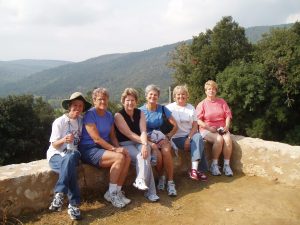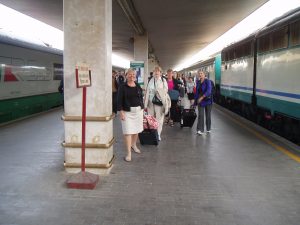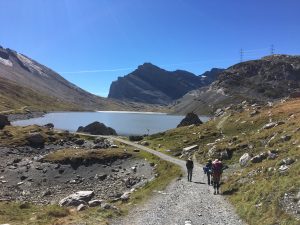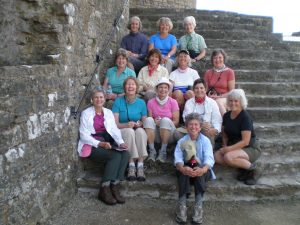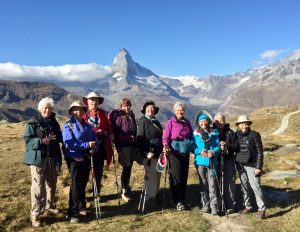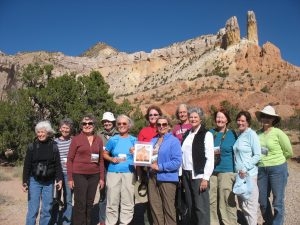 This story appears in the Fall 2022 edition of Randolph College's magazine, Vita Abundantior.