May 30, 2022
Summer research project investigating navigation with smartphone sensors
This story is part of an ongoing series featuring the work of  students and faculty participating in Randolph's 2022 Summer Research Program.
It all started with roller coasters.
In 2006, Peter Sheldon began a long-term project on them, with the goal of mapping out the rides.
"When I say map the ride, I mean we can say, at 30 seconds in, you're at this position, going this speed," explained Sheldon, Randolph's Charles A. Dana Professor of Physics & Engineering. "We wanted to have some real statistics on the rides, which nobody has. They don't exist."
Sheldon has revisited the project often over the years and, this summer, will be working with Marcela Izquierdo Poza '24 and Cristina Berenguer Llongueras '23 during Randolph's Summer Research Program (SRP).
The program provides students with the opportunity to spend several weeks working closely with a professor while conducting research in their chosen field. They are paid a stipend for their work, which includes laboratory tests, field studies, literature analysis, computer programming, and other research-related work. They also attend seminars with guest speakers and present their findings during a symposium to conclude the program.
This summer, Sheldon, Poza, and Llongueras will be looking at inertial navigation, which has long been used to measure acceleration, speed, position, and orientation in commercial travel (think boats and airplanes).
Inertial navigation systems are self-contained and do not require communication with an external source like a GPS does. They're also expensive, so the project has shifted over the years to use and evaluate affordable accelerometers and gyroscopes that are built into smartphones.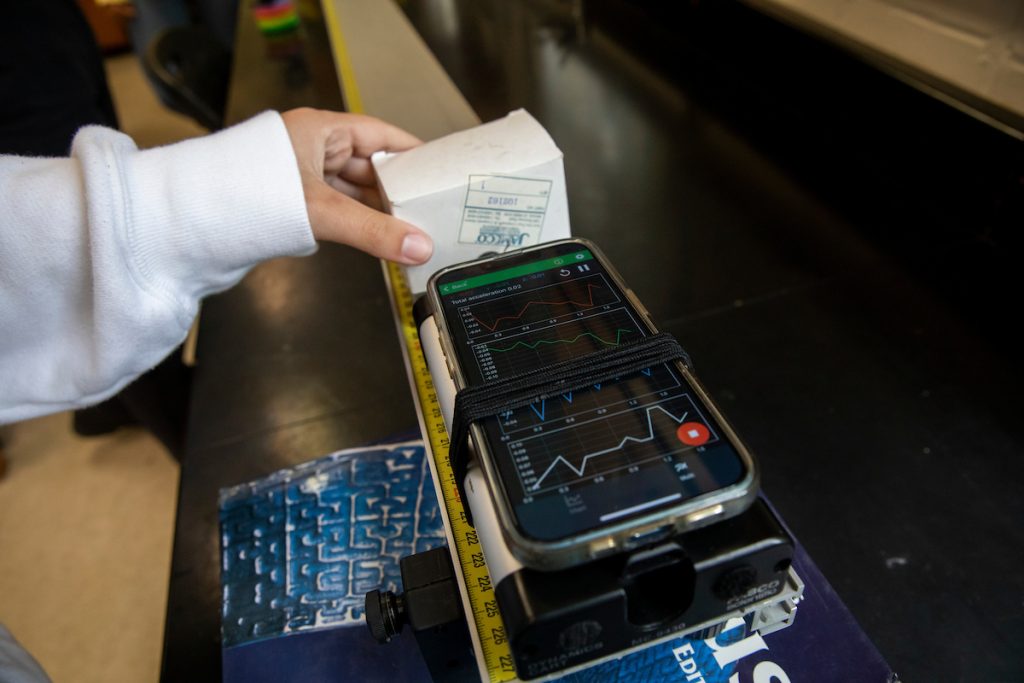 "If we want to map a roller coaster ride, first we have to see if we can map a person walking in a straight line down a hall," Sheldon said. "That's where we start. We put a smartphone on a cart just going down a hill and see if we can map that ride. Then we can get more complicated."
The topic intrigued Poza and Llongueras when they began talking to Sheldon about participating in SRP.
"This was pure physics, using Newton's Laws," Poza said. "That's what we were most interested in."
The tests they've been conducting are also looking at an anomaly in the iPhone accelerometer that Sheldon and another student found last year.
"Inertial navigation with inexpensive equipment is difficult and hasn't been explored widely," Sheldon said. "We all have a smartphone in our pockets. Can we do it with that?"
And, because we all have smartphone in our pockets, new questions, and possibilities arise: Can they be used to make other measurements?
"That's relevant to access, equality," he said. "When you get to a high school classroom, one can afford the equipment and one can't. but most kids have smartphones. Can we use a smartphone to do a physics lab, to learn physics? Can we use it in general to learn?"
Tags:
computer science and math, engineering, Engineering Physics, peter sheldon, physics, summer research, summer research 2022, Summer Research Program