May 3, 2022
A Rite of Passage: Earlie Hudnall, Jr. chosen to create presidential portrait
Presidential Portrait Unveiled – May 5, 2022
President Bradley W. Bateman's portrait was unveiled Thursday night during a dinner with the College's Board of Trustees. Board members also announced that they were naming the new pool facility in honor of Bateman and his contributions to the College.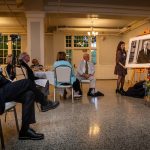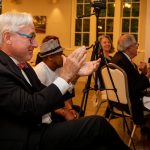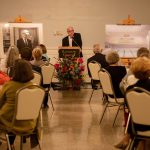 A Rite of Passage
An official presidential portrait is a rite of passage, and nearly all of Randolph's presidents have a painting included as part of the College's collection at the Maier Museum of Art at Randolph College.
The College's tradition of collecting art dates back to 1907, when the senior class commissioned the well-known American artist William Merritt Chase to paint a portrait of William Waugh Smith, the College's founder and first president.
This year, as preparations began for his own portrait, Bateman decided to do things a bit differently, opting for a photograph instead of a painting.
"I think it's a recognition of change," said Bateman, whose portrait will be unveiled in May. "As much as I love paintings, and I do love paintings, I think it's time for us to step into the 21st century."
Celebrated photographer Earlie Hudnall, Jr. was contracted to not only take Bateman's photograph, but also document life on campus during visits in late 2021 and early 2022.
"He's a phenomenal photographer," Bateman said. "I think good art asks questions, it doesn't give answers. I think Earlie's photography asks interesting questions, and I think one of the questions about my presidency will always be how did the College deal with this changing demography? How did it change with its move into being a diverse college? I think having the perspective of a Black photographer on my career is an interesting way to look at some of those questions."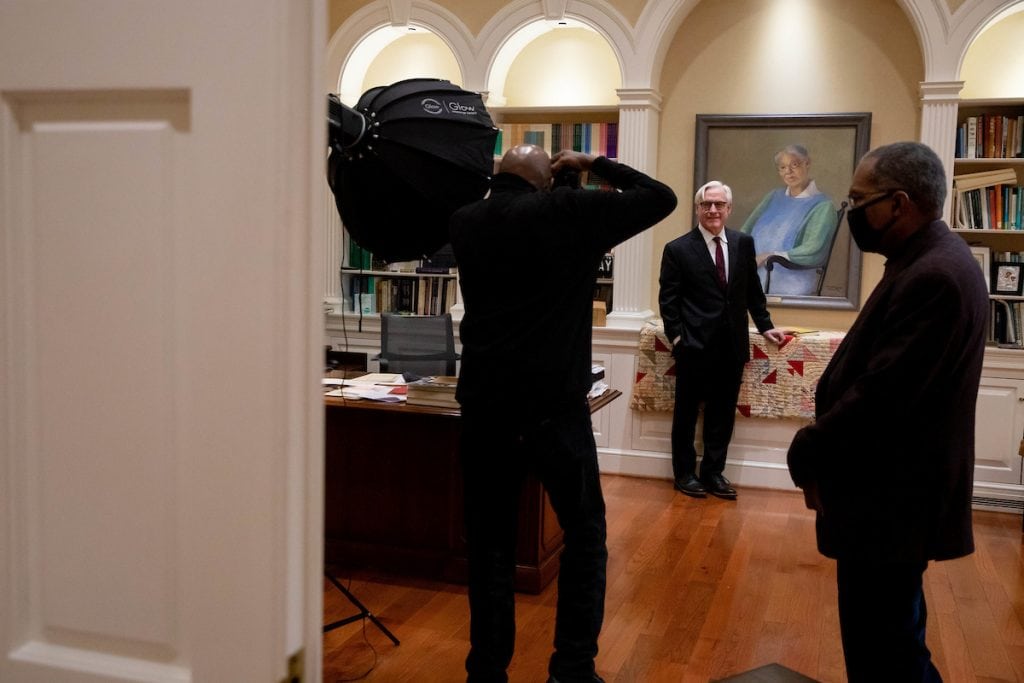 Born in Hattiesburg, Mississippi, Hudnall began taking photographs in the 1960s while he was serving in the U.S. Marine Corps during the Vietnam War. In 1968, he enrolled in Texas Southern University, where he earned a degree in art education.
Still based in Houston, Hudnall is known for documenting everyday life in African American communities in the South. His striking black-and-white photographs feature children playing, families gathering for special occasions and celebrations, and even people just walking down the street.
"Each day that I wake up, I'm just trying to photograph life as I see it," Hudnall told TIME in 2020. "You have to walk around and respect what is about to happen in front of the camera. It's a sacred moment."
His work is included in major collections, including the Smithsonian American Art Museum, the National Museum of African American History and Culture, the Art Institute of Chicago, the Schomburg Center for Research in Black Culture, and the Museum of Fine Arts, Houston.
"He has an amazing ability to get at the narratives in people's lives," Bateman said. "And, of course, it's out of those narratives that the questions come. He makes stories with his photographs."
This story appears in the Spring 2022 edition of Randolph College's magazine, Vita Abundantior. 
Tags:
Bradley W. Bateman, Vita No. 12