November 11, 2021
'I really want students to be able to come to me': New Title IX coordinator brings extensive background to Randolph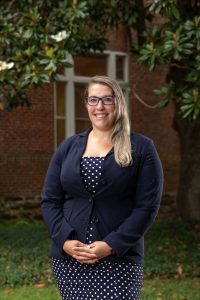 Since joining Randolph as the College's new Title IX coordinator this summer, Tamara Kosic has already seen the rules surrounding the complex process change several times.
More than 60 pages of new guidelines were handed down from the federal government not long after she started, and case law related to Title IX is coming out daily across the nation, she said.
The revisions are indicative of the complicated nature of Title IX and the issues surrounding it. Guidelines often change with each new incoming presidential administration, something Kosic said can lead to confusion about procedures.
"I think the law is changing to keep its finger on the pulse of society," said Kosic, who most recently worked as a magistrate in Lynchburg. "It's evolving."
With sexual assault and other Title IX issues facing colleges across the nation, Kosic is passionate about supporting students.
"The major focus for me is accessibility, transparency, and prevention," she said. "Knowledge is power. Prevention is power. And if something does happen, I really want students to be able to come to me."
In addition to being ready to guide students through the process, she has worked to revise and enhance the College's educational programming around Title IX.
She conducted consent workshops for students during orientation and taught about issues like bystander intervention in the first-year seminar. She led trauma training sessions that were open to faculty and staff this fall and also met with the College's Davenport Leaders, resident advisors, coaches, and Academic Services Center tutors.
"Everyone has been amazingly supportive of seeing Title IX revamped and revitalized here at Randolph," she said. "People want positive change."
Kosic—whose career has taken her all over the world, including a stint with United Nations tribunals—is perfectly suited to lead those changes.
She's worked all angles of the law: prosecution, defense, pre-trial judge, and victim lawyer.
Throughout her career, she carved out a niche working with victims that began during her time with the International Criminal Court (ICC) in the Netherlands. She fully understands the need for due process and transparency with any actions taken, whether formal or informal.
The ICC investigates and tries individuals charged with genocide, war crimes, and crimes against humanity. As a legal consultant, Kosic worked with rape victims from Kenya and analyzed issues regarding victim status.
Later, working for the United Nations at the Special Tribunals for Lebanon, she took witness statements from victims of terrorist attacks and their families in the Middle East.
"We have been very lucky to hire someone so uniquely well qualified to serve as our coordinator of Title IX," said Randolph President Bradley W. Bateman. "Tamara's experience at the ICC and her training as a lawyer make her ideally suited for the many complex parts of the work. We are very happy to welcome her to our Randolph community."
Kosic studied political science and journalism at Chicago's DePaul University, then joined the U.S. Peace Corps. Serving in Morocco, Kosic was tasked with teaching sex education to women's groups and students in rural areas.
When her time in the Peace Corps was done, Kosic enrolled in the University of Miami Law School and continued her work with marginalized groups. While in law school, Kosic taught constitutional law, family law, and criminal law to inner-city high school students and imprisoned pregnant teens in Miami as a Street Law Fellow.
Upon returning to the United States, she worked as a magistrate for the Supreme Court of Virginia in Lynchburg, reviewing complaints of criminal conduct, issuing warrants and emergency orders, and conducting bail hearings.
For Kosic, college was a life-changing time that shaped who she is today—and she wants that same opportunity for Randolph's students.
"It created me," she said. "It pushed me and challenged me to think differently, to challenge my belief system, to go out into the world and constantly check myself. To have that, to create those friendships and bonds, students need a safe space where they can talk openly, share their experiences, and have those conversations."
Tags:
Tamara Kosic, title IX, Vita No. 11