September 7, 2021
Jennifer Eberhardt, author of 'Biased,' to speak at Randolph College in October
Social psychologist Jennifer Eberhardt will speak about her 2019 book, Biased: Uncovering the Hidden Prejudice that Shapes What We See, Think, and Do, at Randolph College next month.
A 2014 recipient of the MacArthur Genius Grant, Eberhardt is one of the world's leading experts on unconscious racial bias and has extensively studied the consequences of the psychological association between race and crime.
"At this moment in our nation's history when we are once again fighting racism and racial injustice issues, it is even more important for each of us to understand how we can better interact with one other," said Randolph President Bradley W. Bateman. "I am particularly happy that we are able to bring Dr. Eberhardt to our campus and to our city. She is at the cutting edge of research and insight on this topic, and she will add to the very important conversations that are happening in our community. We are proud to offer this opportunity, not just to our own campus, but to the broader Lynchburg area."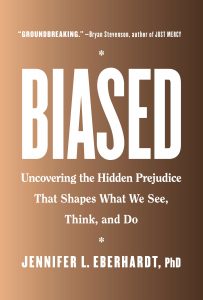 Her lecture will be held at 7 p.m. Wednesday, Oct. 27, in the College's Smith Hall Theatre. In it, Eberhardt will offer a behind-the-scenes look at her research, sharing stories and science to uncover how implicit bias shapes our visual perception, attention, memory, and behavior.
Over the years, she's conducted experiments showing how racial bias can lead to disparities in education, employment, housing, and the criminal justice system. Eberhardt uses a range of methods, from laboratory studies to field experiments, to reveal the extent to which racial imagery and judgements can take root.
She'll also talk about police departments that are implementing her strategies, which combine social psychological insights with technology to improve outcomes in the criminal justice system and beyond.
Eberhardt is a professor of psychology at Stanford and was named one of the 100 Leading Global Thinkers by Foreign Policy magazine. She's been elected to the National Academy of Sciences, and the American Academy of Arts and Sciences. She also is co-founder and co-director of SPARQ (Social Psychological Answers to Real-World Questions), a Stanford Center that brings together researchers and practitioners to address significant social problems.
Tags:
events, Jennifer Eberhardt