August 31, 2021
Randolph faculty recognized as among best in the nation by Princeton Review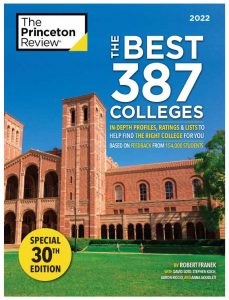 The Princeton Review has once again recognized Randolph's faculty as one of the best in the nation—this time with a placement on its "Great List" for professor accessibility. The College also earned a spot on the Green Honor Roll and was included as one of the best schools in the region. 
The 2022 edition of its Best 387 Colleges was released this week. To mark the book's 30th anniversary, editors compiled a specially curated selection of "Great Lists," identifying schools that have had the most impressive history of appearances on its top 20 colleges ranking lists over the years, and honor rolls for categories ranging from financial aid to fire safety. The listings this year are not ranked as in previous years. Instead they are listed alphabetically.
Randolph was the only school in Virginia to appear on both the Great Professor Accessibility list and the Green Honor Roll. The College was also singled out in a 2022 Best Colleges: Region by Region web feature recognizing colleges that are academically outstanding. 
The book's profile on Randolph highlights the College's small, tight-knit community, emphasis on self-discovery and personal growth, and small class sizes. It also includes a shout-out to the College's motto, Be An Original, informing prospective students that at Randolph, "you're not just a number. You matter as an individual." 
In a "Survey Says" sidebar, The Princeton Review lists topics students were in most agreement about in their answers to survey questions. That list touts Randolph's Career Development Center and internship offerings, environmentally-aware student body, class discussions, and library. 
The Princeton Review has published its "Best Colleges" guide since 1992 and only about 14 percent of America's four-year colleges are included. The rankings are tallied based on surveys of students who rate and report on various aspects of their campus and community experiences. Randolph has been included on numerous lists over the years, including most recently as last year's #16 for Most Accessible Professors.
Read more about the 2022 edition of The Best 387 Colleges here. 
Tags:
accessibility, Best 387 Colleges, environmental sustainability, green schools, most accessible professors, The Princeton Review