May 30, 2021
Class of 2020 returns for in-person Commencement ceremony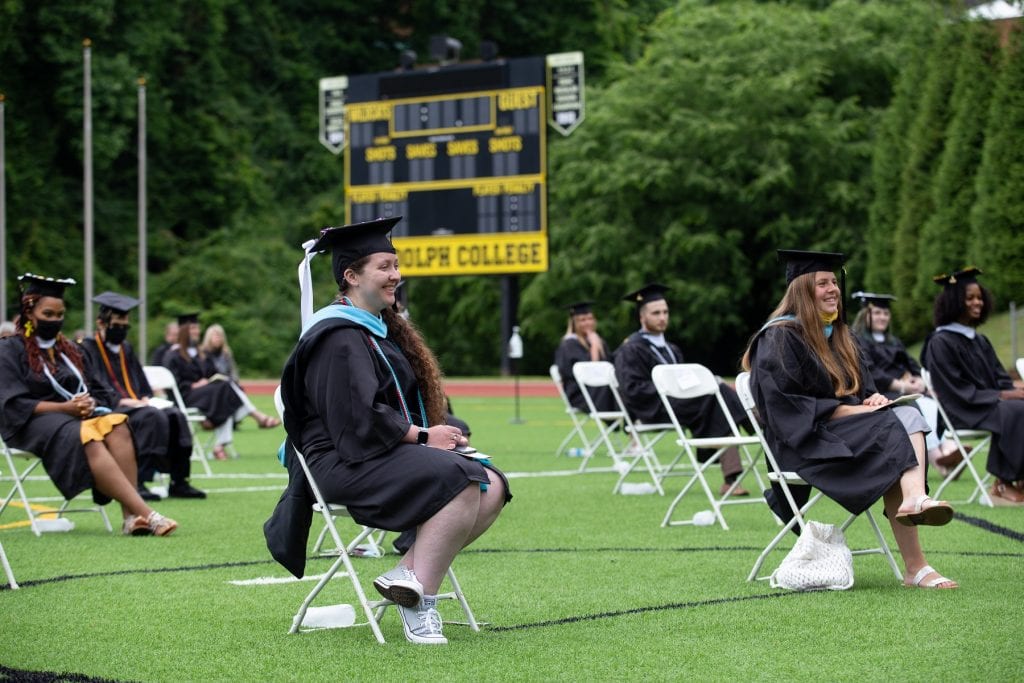 Change, and lessons learned, were a running theme during a special Commencement ceremony held for the Class of 2020 on Sunday.
Da'Quan Saunders-McNear '20, who served as Student Government president during the 2019-20 year, talked about the gravity of the day—and the many drafts his speech went through in preparation for it.
"I realized that the words no longer fit the moment because I wasn't the person that wrote them anymore," he said. "I have changed this past year and so have so many of us."
He also reminded his former classmates that their growth doesn't end here.
"Allow yourself time to change into the person you need to be, and then grow and change again, and again. Never limit yourself or your potential."
The ceremony was held in WildCat Stadium on an unusually chilly May morning. Nearly 140 graduates were recognized, including 12 who received the College's Master of Arts in Teaching degree.
The College also announced the recipient of the prestigious Maude Huff Fife Award. Named after a graduate of the Class of 1918, the award is given to the student (or students) whose quality point ratio is the highest in the senior class.
This year, the award was given to Nicole Dawn Taulton '20, a sport and exercise studies graduate now studying physical therapy at the University of Maryland Eastern Shore.
Randolph President Bradley W. Bateman complimented students for the resilience and agility they showed when classes went online during the spring of 2020. He also thanked them for their patience and for making it known they wanted an in-person Commencement ceremony instead of a virtual one.
Like Saunders-McNear, Bateman said he struggled to find the right words for the Class of 2020, something that would be uplifting without minimizing any residual trauma or dislocation students are feeling.
"As I reflected on my predicament of what I could say that was both honest and uplifting, I realized that perhaps the shoe is on the other foot," he said. "Perhaps it is you who have uplifted me. Your affection for each other and your steadfast insistence that we meet together and have this celebration today means the world to me. You exemplify the best aspect of Randolph, that we are a small, close knit community in which we care for each other and can depend on one another."
He told students to hold on to those bonds and cherish the relationships formed behind the Red Brick Wall.
"You are a special class with a unique experience," he said. "You are a gift to each other and a gift to the College."
Commencement speaker Karen E. Campbell '77, a member of Randolph's Board of Trustees, highlighted the unintended, and sometimes unrecognized, effects of that unique experience.
Over the last year, students adapted to and honed new modes of learning. They discovered how to stay connected through online events and meetings. They watched their professors come up with new, creative ways to teach remotely.
Campbell also spoke about the role individuals play in intentionally creating change and encouraged students to make their mark on the world.
"As originals, as students who completed your college education in trying times, as 2020 graduates of Randolph College, you have the competencies, the capacity, and the compassion to create the change, to make the difference, you wish to see in your worlds," she said.
Campbell, who earned a B.A. in sociology and anthropology, with a minor in biology, at the College, served as a professor of sociology at Vanderbilt University from 1985 until her retirement in 2016. She taught Introductory Sociology, as well as courses about women and work, women and public policy, research methods, and social stratification; she also taught the graduate teaching workshop, helping sociology graduate students prepare to teach.
Her research focused on gender inequalities in various settings and forms: gender differences in the use of social networks for job searches, and in neighborhood networks; the successes and failures of state women's suffrage movements in the United States; the entry of women into the professions of medicine and law in the late 1800s and early 1900s; and changes over time in regional variation in gender-role attitudes.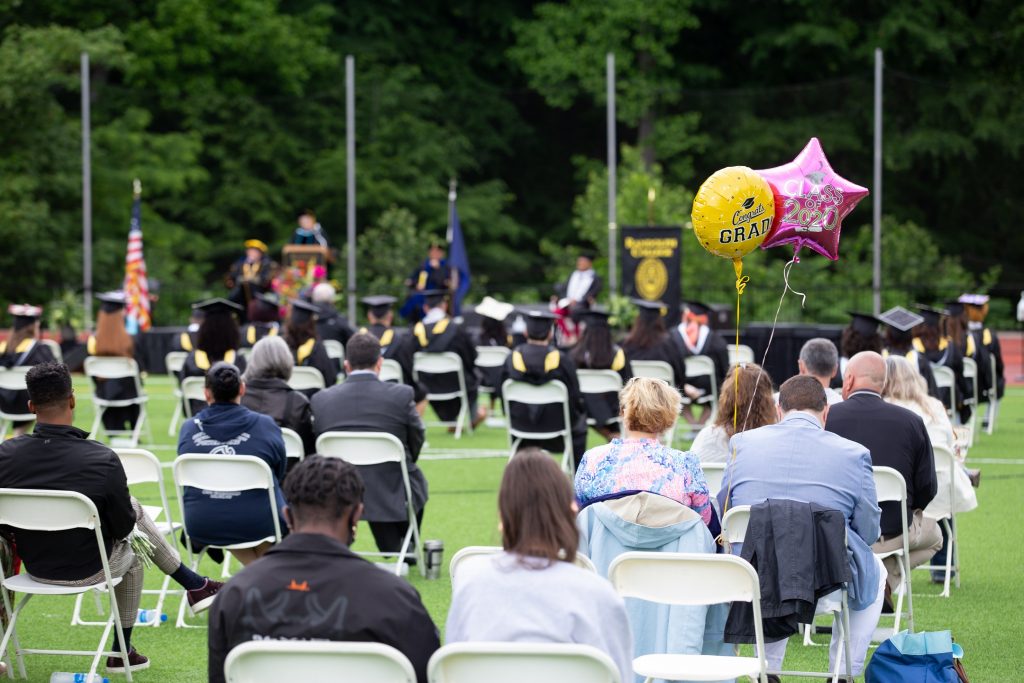 She told the graduates their efforts and actions are already bringing change to the world.
"I hope, I believe, that you have already made differences, and that you have decided that the kind of differences you make are those that sustain the honorable, inclusive, and equitable community that is a hallmark of Randolph College. Thanks both to your own talents and the lessons you have learned behind the Red Brick Wall, you can—and I hope that you will—continue to make differences in the world beyond the Red Brick Wall, in ways both great and small. You have the opportunity to create a life more abundant for yourselves and for others."
Saunders-McNeal, too, emphasized the importance of offering a helping hand to others.
"Despite our different obstacles and paths in life, we all have privilege," he said. "Privilege to not only elevate and open doors, but to reach back and bring others through those same doors. Others who do not have the access or the resources, because at one point in my life that was me, and I'm sure so many of you. Because what is solidarity if not stepping up, reaching back and continuing to push yourself and others and different systems forward.
"Here's to the barriers we are going to break, to the obstacles we will push ourselves over, the glass ceilings we are going to shatter, and the many, many ways we will shake the table," he added.
Tags:
2020 Commencement, 2020 graduates, Bradley W. Bateman, Commencement, Commencement 2020, Da'Quan Saunders-McNear, events, graduates, Karen E. Campbell '77