March 26, 2021
Historic markers dedicated in memory of alumnae
World renowned dancer Helen McGehee '42 and her grandmother, painter Sallie Lee Mahood, Class of 1897, were recognized Friday during a dedication ceremony for historical markers erected in their names.
McGehee, who died in 2020, was known for her work as a dancer, choreographer, and teacher. It was at the College, then Randolph-Macon Woman's College, where she first discovered modern dance, studying with Eleanor Struppa.
She studied Greek and Latin at the College, which would later inform her work originating iconic roles and designing costumes with the famed Martha Graham Dance Company. She was a leading performer with the company from the 1940s to the 1970s.
McGehee later started her own company and co-founded the dance division at the Juilliard School, where she taught for more than 30 years.
Randolph dance professor Pam Risenhoover first met and studied with McGehee at Juilliard, leading to a long friendship. She remembered McGehee as "notably and memorably feisty."
"Helen was a force to be reckoned with, and I am grateful to have come into frequent contact with that force, even if there were times when it was less than fun," Risenhoover said. "Helen was in possession of this remarkable vibrancy and creativity, and she was until the end of her life. She was a dancer, a symbol, as Graham once said, 'of the performance of living.'"
McGehee founded the College's Visiting Artists Program in Dance in 1971 and, later in the decade, moved back to Lynchburg with her husband, Colombian-American artist Rafael Alfonso Umaña Mendez.
The historic markers unveiled today are in front of their former home at 2907 Rivermont Avenue.
Betty Harris, another former student, remembered McGehee and Umaña hosting dinners there and how they encouraged her in her own creative pursuits over the years.
"Helen's tremendous influence as an artist and an intellectual cannot be overstated," Harris said, noting that the marker now stands as a constant reminder of her legacy and "indomitable creative spirit."
That spirit was undoubtedly influenced by her upbringing surrounded in the arts.
Mahood, who moved to Lynchburg as a young adult, painted primarily landscapes and portraits. A co-founder of the Lynchburg Art Club, she studied with artists in Martha's Vineyard, New York, and Paris, and was often commissioned to paint portraits of famous Virginians. Her work is in the collections of the Virginia Museum of Fine Arts, the Virginia Museum of History and Culture, and the Supreme Court of Virginia.
She also taught at E.C. Glass High School and started its art collection, which spans 119 years and includes work by well-known artists like Queen Stovall, in addition to Umaña and Mahood herself.
The markers recognize four generations of women in their family. Mahood's mother, Julia Morrison Blount, and her daughter, Helen Mahood McGehee, Class of 1914, were also artists and are named on the marker.
Kathy Kinsey, a family member who spoke during the ceremony, said she hopes it encourages a new generation of artists
"Maybe another girl will be inspired to stretch a little further," she said, "and reach for her own amazing legacy."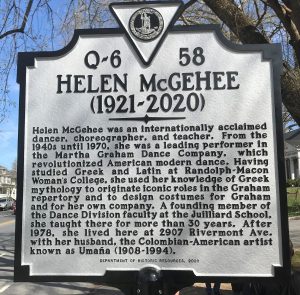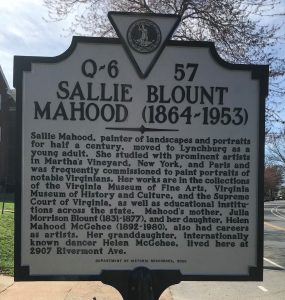 Tags:
alumnae, dance, Helen McGehee, history, performing arts