January 12, 2021
Author and Johns Hopkins professor Martha S. Jones to speak during annual MLK service
Martha S. Jones, the Society of Black Alumni Presidential Professor and a professor of history at Johns Hopkins University, will be the featured speaker during Randolph College's annual service honoring Martin Luther King, Jr.
The virtual event will be available to view at 5 p.m. Monday, Jan. 18, on the College's YouTube page, which can be accessed here.
Jones is the author of Vanguard: How Black Women Broke Barriers, Won the Vote, and Insisted on Equality For All, which was selected as one of Time's 100 Must-Read books of 2020. It focuses on the Black women's suffrage movement, which continued long after the 19th Amendment granted American women the right to vote.
"We like to bring a scholar in for Martin Luther King Jr. Day, and someone who has a bent toward social justice because that's what Dr. King was about," said Steve Willis, special assistant to the president and secretary of Randolph's Board of Trustees. "This topic she's writing about is infinitely linked to social justice and civil rights."
In Vanguard, Jones traces a new history of African American women's political lives, from the 1820s to the passage of the 1965 Voting Rights Act, focusing on figures like Maria Stewart, Frances Ellen Watkins Harper, Fannie Lou Hamer, and more.
"It's really a book of stories," Willis said. "She mentions some well-known historic figures, but there are a lot of stories in there about women and the work they did that have just not been told before."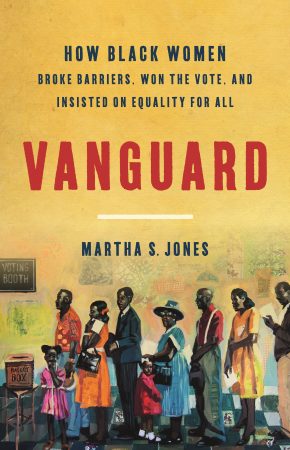 Early histories of the suffrage movement mostly overlooked Black women, while those that came later focused on the small number of Black women who worked in organizations put together by white women.
"If we follow African American women to where they are and listen to what they have to say and watch what they do, it turns out they are as interested in political power and the problem of sexism as any community of American women—but they're doing that work on their own terms," Jones told Time in August. "This is the story all the way through."
Jones has written often about race and women's rights. She is the author of the 2018 book Birthright Citizens: A History of Race and Rights in Antebellum America, which won the Organization of American Historians' Liberty Legacy Award for best book in civil rights history. In 2007, she wrote All Bound Up Together: The Woman Question in African American Public Culture 1830-1900, which examined Black debates about women's rights.
Her work has also appeared in the Washington Post, the Atlantic, the Chronicle of Higher Education, and Time, and she's collaborated with the Smithsonian's National Portrait Gallery, the Charles Wright Museum of African American History, the Southern Poverty Law Center, PBS, and Netflix.
Jones is also director of the Hard Histories at Hopkins Project, which examines the role racism and discrimination have played at Johns Hopkins through research, teaching, public engagement, and the creative arts.
Prior to starting her academic career, she worked as a public interest litigator in New York City.
Tags:
Martha S. Jones, Martin Luther King, MLK, speakers, Suffrage