May 17, 2020
A message from President Bateman to the Class of 2020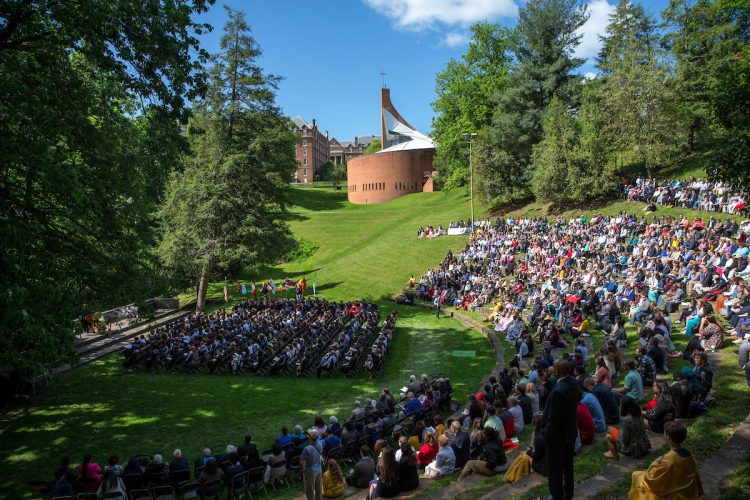 I hope this message finds you and yours healthy and safe. You and your classmates have weighed heavily on my mind in recent weeks, but especially today. In a normal year, we would be together in The Dell, celebrating this monumental achievement under a sunny, Sunday sky. Your family, friends, and professors would be surrounding you, cheering as you walk across the stage to receive your diploma.
I know we can all agree that this is not a normal year. And like many things this semester, COVID-19 has disrupted those plans. While we try to look on the bright side and are doing everything we can to make this day special for you, I am fully aware that this pandemic has robbed you of many things related to your senior year: the chance to experience many firsts and lasts, the chance to say goodbye in person, the chance to transition from students to alumni.
These are important moments in your life, and I am so very sorry this semester did not end normally. But I am also proud of each of you. Life does not always go as planned—as the past months have taught us—but I am confident that the education you've experienced at Randolph, the lessons you've learned, the skills you've acquired, and the passions you've discovered will prepare you for anything life throws at you. You are now a Randolph graduate. That is something for which to be immensely proud.
This community will remain a part of you for the rest of your lives, and while we are not all together sweating in our regalia under the hot sun in The Dell, you DO still have a strong family of faculty, staff, and alumnae and alumni cheering you on today (and every day). We are together in spirit, a spirit that is far stronger than this pandemic.
So today, take a moment and relish this accomplishment. You did it. Today, you are a college graduate, and as cliché as it sounds, the next chapter of your life begins now. The world is waiting, and what happens next is up to you. Like the thousands of alumnae and alumni who have come before you, you have the opportunity to make a difference—and to live the life more abundant.
This is your only life … so make sure it matters.
We can't wait to welcome you home later this year for your on-campus Commencement. I also encourage you to go to Commencement 2020 for a special gift from our College faculty and staff, led by our music faculty.
We are proud of you, and we miss you.
Vita abundantior,
Bradley W. Bateman
President
Tags:
Commencement 2020, coronavirus, COVID-19