April 29, 2019
Step by step: New student group wowing audiences with talent and dedication
During the halftime show at the season opener for the women's basketball team, a group of students raced out onto the court. As they began their carefully choreographed step routine, the energy level in the gym ramped up, with the amazed crowd responding with cheers and applause. That debut performance was just the beginning for Randolph's new step team.
The Randolph College Step Team debuted at the men's basketball team's home opener in November. The team has become an exciting group around campus, offering dramatic and entertaining performances not only at athletic events, but also at the PanWorld Coffeehouse, the annual Martin Luther King, Jr. memorial service, and during flash mobs in the Student Center.
"I want every routine to be like a show," said Renee Sarpong '21, the team's founder and captain. "I'm always thinking about different moves and rhythms in my head and go off of that. I try to add something unique to every step, like different themes and things to make them all unique."
Stepping is a complex performance art that melds folk traditions with popular culture and involves synchronized percussive movement, singing, speaking, chanting, and drama. According to dancer, dance historian, and scholar Jacqui Malone, who has written extensively about African American movement arts, most people first notice the sound of the drum in contemporary stepping. The drum sound is created by the dancers, who use their own bodies to produce rhythmic sounds. Hand clapping and foot stomping have been present in African American folk dances since at least the 19th century. Although some scholars considered those elements as responses to the outlawing of drums by slaveholders during the slavery era, such practices have also been recognized in various West African traditions.
"To be a part of what keeps that tradition alive is honestly an honor," Sarpong said. "Step is interesting to me because there are so many different things you can do with it, and it incorporates dancing, acting, and many other things. It's really cool how one idea or theme can turn into a whole routine, and it's actually fun trying to see the different things we can come up with."
Sarpong first learned how to step in fifth grade and ended up creating a team at her high school.
"They didn't have a dance or step team, and that's something I really liked to do," she said. "It really helped me make more friends and gave me an awesome group to be a part of."
She worked to begin the group at Randolph for the same reason. After the step team went through the process to become an official group recognized by Student Government, interest in the team was high. After three days of tryouts, the first 10 members formed the team.
"When I went to the interest meeting and Renee did her first step, I said 'There's no way I can do that,'" laughed Sha-Ron Bass '22.
Despite his initial doubts, Bass made the team and worked to hone his skills. He frequently finds himself referring back to his time as a member of an ROTC armed exhibition drill team in high school.
"It wasn't a step team, but we marched to different beats and used our hands and feet," Bass said. "It was more of a drill-type performance, but it also incorporated some elements of what I do now, so that's where I draw a lot of my experience from."
Bass had other reservations about trying out for the team.
"Stepping is actually something that's way out of my comfort zone," he said. "I originally did not want to do it because I knew I'd be the only guy, and I wasn't sure how I felt about that."
If you haven't seen our new step team in action at basketball games and campus events this year, you're missing out! Each performance features a different theme and routine. Some of the members gave us a preview of what you can expect to see during one of their rehearsals!

Posted by Randolph College on Wednesday, January 30, 2019
Being the only male on the team has drawn a bit of attention—but also gives Bass some extra flexibility.
"We change up some of the steps because I'm not always comfortable with the moves, so you may occasionally see me doing something a little different from the rest of them," he said. "I kind of get to switch it up and add my own part to it to make it fit into the routine and look good."
Team members are committed to perfecting their performances, rehearsing several times a week.
"When we practice, we don't mess around, and I'm glad the team gets that," Sarpong said.
With so many team members learning to step for the first time, Sarpong was concerned about the amount of time it would take to be performance-ready.
"But after the first performance was over, I was so proud of how awesome everyone did," she said.
Being a part of the group has helped Bass, who is a first-year, feel more involved with the College community. It has also taught him to find balance between academics and student life. In addition to the step team, he is a member of the Macon Activities Council, Student Government, and the Black Student Association.
"A lot of people tell me they don't know how I do it all, but if you're motivated enough, you can do anything," he said. "I really think it's worth it."
Next year, Sarpong and the team hope to offer even more performances, both on campus and beyond, and possibly host a showcase with steppers from other area colleges.
"This is something different that most people around here haven't seen before," Sarpong said. "We've had a lot of our friends and professors talk to us about it, and they're really excited. That makes us even more excited."
"I think the crowd is what carries the energy," Bass added. "When I perform, sometimes, I get really sweaty and tired, but the energy and cheers from the crowd is what keeps us going and pushes us through."
Bass also praised Sarpong for her leadership and initiative to bring the group to campus.
"Coming from ROTC, I've always felt that being a good leader was about being tough, but also being a good mentor and friend," he said. "It's good to know Renee is there to help and we can go to her for help, but we all support each other too. I really enjoy it."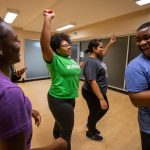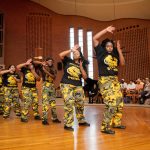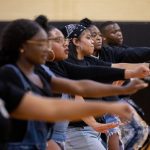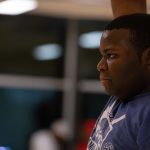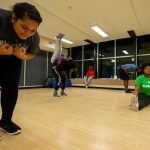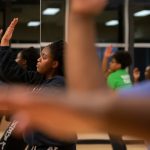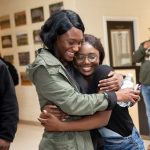 Tags:
African American studies, magazine, Sha-Ron Bass, Step Team, student activities, Student Life, Vita 2019 03 Spring, Vita Abundantior magazine - No. 6