February 26, 2019
Randolph alumni host students in Washington, D.C. for career immersion experience
This weekend, Randolph alumni Rashan Colbert '11, Ei Thant Sin '16, Jessica Burroughs '18, and Roxy Torres '10 hosted current students at their workplaces in Washington D.C. as part of a career immersion trip.
Colbert, who works for U.S. Senator Cory Booker, gave a tour of the U.S. Capitol Building and had lunch with students in the Senate cafeteria. Sin showed students around the set of Voice of America Burmese News, where she works as an international broadcaster. Finally, Burroughs and Torres welcomed students to EAB, where they talked about their careers in educational consulting. Burroughs is an HR systems associate for the company, and Torres is the director of business development strategy and operations.
The career immersion trip was part of a partnership between Randolph's Career Development Center and the Alumnae and Alumni Association.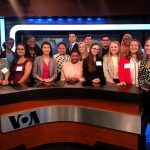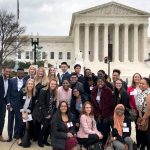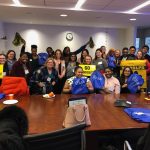 Tags:
alumni, career development, Career Development Center, career immersion, Cory Booker, EAB, Ei Thant Sin, Jessica Burroughs, outcomes, R-MWC Alumnae and Randolph College Alumni Association, Rashan Colbert