August 6, 2018
A Life's Work: after 45 years guiding students, Associate Dean Paula Wallace bids goodbye
After 45 years guiding students, Associate Dean Paula Wallace bids goodbye
Tucked away in Paula Wallace's desk drawer is a small bag with the broken insides of a flash drive.
"It's a reminder to me," Wallace said, remembering the 2011 day when she lost the detailed assessment report that had taken her weeks to complete—and the one that she had neglected to save on her hard drive. "Had someone come in that door after it broke and told me, 'Paula, you know what you should have done?' I think I would have taken them down!" Today, the tiny, plastic pieces serve a greater purpose—they remind her how students feel when they come to her with academic issues or other problems.
"The pieces remind me that the student I'm seeing at that moment already knows what he or she should have done," Wallace said. "If I start with what they did wrong or what they should have done, they are going to close down because the obvious becomes a criticism. So I start with where are we going to go from here? How are we going to move forward? The present is how we get to the future."
For Wallace, who is retiring as associate dean of the College after 45 years of service, meeting students "where they are" has become a life's ambition—and work. She's spent decades of her time at Randolph reworking, building, and refining its academic advising program to better meet the needs of students and to help them reach their graduation goals in four years. She is known for whipping out a sheet of paper during meetings with students to start graphing an academic plan.
"It helps them look into the future," she said. "It also enables me to highlight the things we do best here—those high impact programs that maybe the student hasn't thought about. And it serves as a teaching aid."
She loves the fact that Randolph has a strong commitment to a four-year degree.
"That means we are really trying to be good stewards of a family's resources," Wallace said. "I love that promise. They may not always get what they want, but they are going to get what they need."
It's so much of a part of her day-to-day that Wallace jokes, "I really do think it's going to be my epitaph one day. I'll have the Four-Year Plan on my tombstone."
'It's not all talk'
Forty-five years ago, Wallace did not intend to be at the College permanently. A French instructor and residence director, she planned to return to graduate school. However, then-President William F. Quillian, Jr., offered Wallace a new position—one that allowed her to combine her experience as resident director with her experience as a teacher.
"What this place has done for me is the same thing it says it will do for students," Wallace said. "It challenged me, and then it supported me. And that's exactly what we say we will do for students. We'll challenge them, but we will support them through it.
"It's not all talk," she added. "The education here can be transformational. But the students have to allow that. They have to want to learn. They have to want to grow. And the challenges are going to be there. But if the students want to learn and are willing to work hard, then it's transformational for
them."
For many students, the awareness of just how significant Wallace was to their life comes well after graduation. During her junior year, Mary Pinck Wood '88, who is now a financial analyst, dealt with what seemed like a crisis at the time.
"I went to Dean Wallace, and she took my tragedy seriously and, as usual, made me feel better. That's what she often did with me. She helped me frame my successes and failures, so that I learned from them both. She helped me to learn that there was no problem so large that a solution could not be found."
Wallace was more than a role model to Wood and her classmates; she was a surrogate mother, a friend, and a confidante. They would go to her for academic help and sometimes just to chat.
"Up in Main, we started referring to her as Dr. Paula (Dr. Ruth was all the rage at the time)," Wood said. "Well, either she caught wind of this, or we weren't particularly original. It was the year of the faculty show, and Dean Wallace came out in a skit as Dr. Ruth. We loved it!"
Finding connections
The commitment and dedication Wallace showed her students was evident in just how much time she spent at the College. She met her husband, George, when he worked as head of security. She fondly remembers how he proposed to her via e-mail because he couldn't get an appointment with her. They eloped on her lunch hour and were married 14 years before he passed away in 2004.
"George taught me about balance," she said. "You have to learn to balance your work, your family, and the needs of your soul."
That is a lesson she has tried to share with her students. "It's a matter of helping them see how they can do things," she said. "It's how to get back on the come-back trail after they've lost their way. It gives hope. If I believed that a student could ruin his or her life after one semester, I couldn't do this job. All of us make mistakes."
Wallace's impact on students has been far-reaching. Kate Leaming Goldberg '98 is now the director of advancement services and a professor herself at Washington College, and she often models her own methods after Wallace's.
"I tell my students that I want their absolute best quality work and learning," she said. "I trust my students and listen to them because I know she trusted and listened to me."
Goldberg remembers how Wallace recognized she was having trouble with test taking and anxiety and worked especially hard to help her with accommodations.
"In the 1990s, learning differences were just starting to be accepted, but Paula took the stigma out of it. She allowed me to take untimed tests due to test anxiety, and just knowing that I had extra time helped me calm down and do my best work. Secondly, she asked me to take notes for other students who were in my class and were not able to take their own notes. Because she asked me to do this, I got better at my own note-taking and was more organized. I did not want to let her (or the student) down."
Finding those types of connections with students is one of the reasons Wallace always wanted to be a teacher, and her tenure at Randolph has allowed
her to do just that—but in a different capacity.
"I just teach something different," she said. "Advising for me is teaching. It just has a different textbook, one that might not be as interesting because it's a college catalog. That's how I've tried to communicate its importance to faculty. They are really good at teaching. And if they look at advising as teaching, when they make that connection, they are really good at advising."
'Bring them back up with you'
The key, Wallace said, goes back to meeting students where they are. "It's what a good teacher does. If you are teaching on parallel with them, they don't understand. You are teaching but not connecting. If you go down to them and stay there, you've lowered your standards. So you go down and
get them and bring them back up with you."
In some ways, 45 years feels exactly like that to Wallace. But in others, the time went by in a blip. Sometimes she goes out to Michels Plaza and walks the bricks carved with faculty member names, remembering old friends and colleagues. She has worked with 10 deans in total, countless faculty and
staff, eight presidents, including interims, and thousands of students. She has seen the world change through the lens of the College community. She
remembers when students sat down for dinner with linen napkins and china; when female admissions counselors had to wear dresses, hose, and heels; when people used paper and pencil; and when all phones had cords.
"This college is microcosm of what is happening in society at large," Wallace said.
So much has changed. But for Wallace, just as much has stayed exactly the same. "It's really people who give this college such a sense of place," she said. "We have a mission, and everyone works hard in many ways for a common purpose.
"I will miss the interacting and learning from faculty colleagues," she said. "Even an interlude from a brown bag luncheon or when I hear a faculty member talk about her sabbatical. That's rich. Faculty are wonderfully clever, and we laugh a lot."
However, Wallace knows now is the right time to retire. She wants to travel and to spend time with her stepchildren and grandchildren (and granddog). She plans to renovate her kitchen and cook for her friends.
Saying goodbye
After 45 years behind the Red Brick Wall, preparing for retirement has been an emotional rollercoaster for Wallace. Still, she does not believe her last day of work will be tough.
"I don't think it will be hard leaving that evening," she said. "I'll just be going home from work.
"I think the tough part will be not coming back the next day. That's going to be what is hard, when I'm not quite sure what I'm supposed to be doing. But I'll find my way. I just hope it's more than a four-year-plan," she chuckled, her eyes brimming with tears.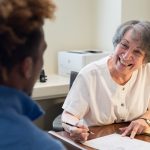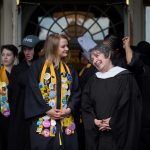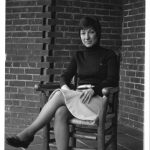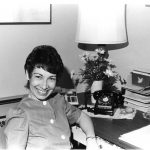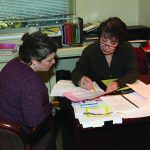 Tags:
commencement 2018, magazine, Paula Wallace, Vita 2018 July, Vita Vol. 1 No. 4