May 13, 2018
Randolph sends forth Class of 2018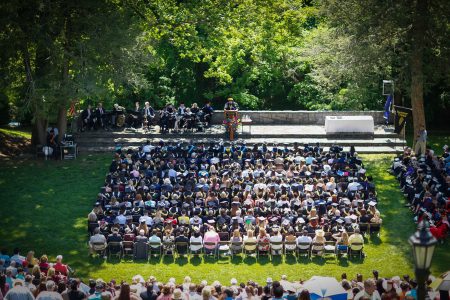 Families, friends, faculty, and staff gathered on a hot Mother's Day morning to celebrate Randolph College's Class of 2018. The May 13 ceremony was held in The Dell at 10 a.m.
MORE COVERAGE OF COMMENCEMENT 2018
About 160 graduates received their diplomas, including those enrolled in Randolph's master's degree program.
Paula Wallace, associate dean of Randolph College, served as keynote speaker at the ceremony. Beloved by generations of students and graduates, Wallace is the longest-serving member of the Randolph College staff. She is retiring at the conclusion of the academic year, after 45 years of service to the College.
Wallace received her B.A. in French from William Jewell College in Missouri and her M.A. in Romance Languages from the University of North Carolina, Chapel Hill. She began her illustrious career at the College in 1973 as a temporary French professor and resident director. When she arrived, she had no plans to make her stay permanent. However, she went on to work under 10 deans and eight presidents—ultimately changing the lives of thousands of students in her role as head of the College's academic advising program.
Wallace themed her Commencement speech around lessons worth repeating—things she learned from others and from literature throughout her career. She pointed to the philosophies of Kingman Brewster, a former president of Yale University, who summarized that the primary goal of a college education is the development of three senses: a sense of place, a sense of judgment, and a sense of self.
A sense of place, she asserted, could be found in the lyrics of a familiar musical tune.
"I recall that Carolyn Wilkerson Bell, the Susan Duval Adams Professor of English, Emerita, at an annual candlelight dinner, offered to students just embarking on the college experience an awareness of place in an elegantly crafted examination of the beauty and meaning that can be found in the College Song," Wallace said. "She emphasized the importance of a sense of place by calling attention to certain 'place words,' or adverbs, in our song "To Randolph College, or Where the River. 'Where the river winds, where purple vines tumble, where voices serenade. There let wisdom rise.' The 'place' words of the song then change and they bring us home— bring us here—naming the place, this place. Randolph College, home of true learning, we sing… our voices serenade, and we pledge. Here let wisdom rise."
For the sense of judgment, Wallace referenced the College's academic catalog, which says, "Independent judgment and analytical thinking are among Randolph College's goals, for the College believes that the best preparation for a career is not simply specific training, but also educating the whole person to be wise, independent, and responsible." Wallace said her personal definition of judgment is to think through the consequences of one's actions and base decisions on practical wisdom and good sense.
"A friend and former colleague once reminded me, when I had voiced a harsh and hasty judgment, that I should always ask myself, 'What is it that I don't know?'" Wallace said. "From that I glean that a sense of judgment—wise, independent, and responsible judgment—is giving oneself time to think things through. It's listening to something deep inside, and it's learning from others. In this way, exercising it becomes a process of discovery. This is certainly worth repeating in our current political and social climate, where we seem to have fewer and fewer shared meanings of tolerance, civility, honesty, and trust."
When talking about sense of self, Wallace turned to her experience in teaching French. She referenced Book Twelve of Fables by Jean de la Fontaine, a 17th Century French poet, which tells the story of three saints in a quest of salvation. According to La Fontaine, happiness can be found by shedding the things that disturb us and by abandoning illusions and deceits—including self-deceit.
"Like Socrates, [La Fontaine] wanted to teach us how to live our lives, and that can be accomplished only if we come to know ourselves as we really are," Wallace said. "La Fontaine's goal is to disclose to us that we are what we should be—and we will become what we should become—to the degree that we know ourselves."
At Randolph, Wallace said the goal is to let students make their own choices and help them become the person they choose to be. An appreciation of place, cultivation of judgement, and self-knowledge is the result.
"Maybe this is the Randolph Plan after all," Wallace said.
In addition to serving as keynote speaker, Wallace was also bestowed the title of Associate Dean Emerita. Several other retiring faculty also received Emeriti status: Rick Barnes, Dan Raessler, Chet Halka, Brad Geisert, and Consuella Woods.
During his address to classmates, Aubrey Fane, president of the Class of 2018 and a sociology major, credited three women—his mother, grandmother, and aunt—for inspiring him to continue his own education and find a passion for activism.
"The struggles of black women rarely make it into our history books," Fane said. "Historically, our society has always undermined the potential of black women. Yet these same women have been able to push back against negative views and prove them wrong every single time. Black women are always at the forefront in the fight for equality."
Fane also talked about overcoming personal struggles and discovering himself at Randolph.
"There were times that I thought I could not make it," he said. "But it was the people sitting right in front of me who lent a hand, a listening ear, and their own stories, and because of their help I was able to pull myself up. With the help of close friends and professors, I was able to channel the fighting spirit within me. To find my own voice, so I could be an effective advocate and speak out about relevant issues and uplift the voices of the invisible."
Fane told his classmates to appreciate the education they have received and encouraged them to use their talents and knowledge to help those less fortunate.
"James Baldwin once said, 'Not everything that is faced can be changed, but nothing can be changed until it is faced,'" Fane recited. "I encourage the class of 2018 to boldly stand in the face of adversity, in the face of opposition, and in the face of hardship."
The College also recognized the recipient of the prestigious Maude Huff Fife Award. Named after a graduate of the Class of 1918, the award is given to the student (or students) whose quality point ratio is the highest in the senior class. This year, the award was given to Tetiana Poliakova '18.
An international student from Ukraine, Poliakova earned her B.S. degree in biology. She is a member of Phi Beta Kappa and was a routine recipient of dean's list honors. In 2015, she received the General Chemistry Award, and in April, she earned the Grace Taylor Wiltshire HA Award in Biology. She served as president of Student Government and received multiple accolades for her leadership at the College as well. Earlier this year, she earned the Deans' Leadership Award and was inducted into Omicron Delta Kappa, the National Leadership Honor Society.
Bateman encouraged the graduates to follow the advice of one of their professors, Danielle Currier. "My charge to you is to make the invisible visible," he said, adding that the changes that need to be made in the world cannot be made until they are faced and acknowledged.
He also expressed his confidence in the Class of 2018. "You are well prepared to be in the world," Bateman said. "Randolph has been a transformative experience for each of you. Now go forward and change the world, and come back and tell us about it."
Tags:
Aubrey Fane, Bradley W. Bateman, Commencement, commencement 2018, Maude Huff Fife Award, outcomes, Paula Wallace, president, speeches, Tetiana Poliakova