April 27, 2018
Ellen Schall Agnew '80 to present First Annual Sandra S. Whitehead Memorial Lecture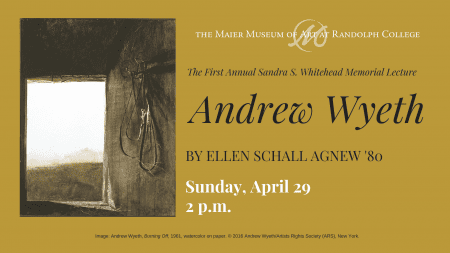 On Sunday, April 29 at 1:30 p.m., local art historian and independent curator Ellen Schall Agnew '80 will present the lecture, "Andrew Wyeth's Burning Off: Context and Meaning," at the Maier Museum of Art at Randolph College.
The lecture will focus on the three Wyeth paintings in the College's collection, two by Andrew Wyeth (Burning Off, 1961 and On Teel's Island, n.d. ) and one by his son, Jamie Wyeth (Pumpkin at Sea, 1971). The works of art will be considered in the context of the artists' lives and bodies of work, as well their acquisition into the College's collection of American art. The important relationship of art institutions and the collectors who support them will also be examined. Andrew Wyeth is widely known for his enigmatic images of the land and people in Chadds Ford, Pennsylvania, and Cushing, Maine, where he lived and worked his entire life. He is perhaps best known for his painting, Christina's World (1948), currently in the collection of the Museum of Modern Art in New York City.
Agnew earned a B.A. in art history from Randolph-Macon Woman's College in 1980, and M.A. in art history from Binghamton University in 1983. She worked at the Maier for 23 years, from 1984 to 2007, initially as the Maier's first full-time curator and director, and then as part-time associate director. Prior to that, Agnew was employed at The Chrysler Museum of Art in Norfolk. While at the Maier, Agnew organized over 100 exhibitions including a five-city national tour of selections from the Museum's collection of American art. She is also an independent curator whose exhibition, Inside Looking Out: The Art of Queena Stovall, is currently at the Virginia Museum of History and Culture in Richmond. The exhibition and catalogue were organized by the Daura Gallery at the University of Lynchburg (formerly Lynchburg College).
Agnew returns to the Maier both to celebrate her many years of friendship with Paul and Sandra Whitehead and to honor Sandra's memory by presenting the First Annual Sandra S. Whitehead Memorial Lecture. The lecture series, established and supported by the Honorable Paul Whitehead, Jr. in 2018 in memory of his wife Sandra Stone Whitehead, will annually highlight works from the College's art collection.
Visit www.maiermuseum.org for more information about programs and events at the Maier. During the academic year, the Maier is open Tuesday-Sunday from 1-5 p.m. Admission to the Maier and its programs are free, unless otherwise noted.
Tags:
alumnae, Andrew Wyeth, art, events, exhibits, Maier Museum of Art at Randolph College, speakers