February 6, 2018
Grant will provide new instruments for Randolph College Chamber Orchestra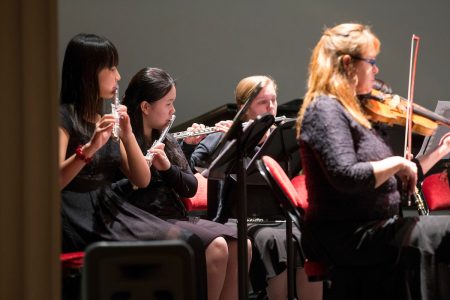 Randolph was recently awarded a $5,000 grant from the Greater Lynchburg Community Foundation that will be used to purchase new instruments for the Randolph College Chamber Orchestra.
Founded in 2012, the musical group allows students to perform major works in chorus and orchestra in numerous public concerts each year. These concerts enable the College to enrich both the experiences of its students and expose Lynchburg and surrounding communities to world-class performances at no cost to the audience. Some performances have even been broadcast live on local radio stations.
"Chamber Orchestra creates a remarkable opportunity for students to gain valuable experience performing side by side with area professional musicians," said Randall Speer, Randolph music professor and director of the orchestra. "This partnership allows exploration of repertoire that is sometimes off the beaten path and is regularly and refreshingly challenging to students and professionals alike.
"The benefits of the group have been tremendous," Speer continued. "Student musicians have cited the orchestra as a key influence in their choice of college. Students recognize that the qualities and benefits of a liberal arts education are directly realized in this ensemble. And, the orchestra provides students with real, professional-level opportunity and networking."
As the music department grows, Speer said the new instruments will allow the program to better accommodate the needs of its students.
"Having these instruments on hand expands the orchestra's repertoire possibilities, but perhaps more importantly, expands our ability to serve our student musicians," Speer said.
Tags:
chamber orchestra, grants, Greater Lynchburg Community Foundation, music, randall speer