January 24, 2018
Maier Museum of Art at Randolph College to Open Spring Exhibitions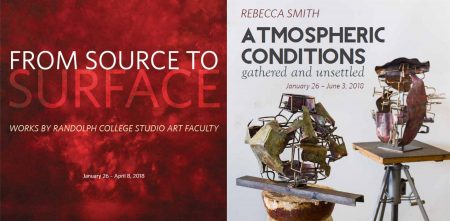 On Friday, Jan. 26 from 5-7 p.m., the Maier Museum of Art at Randolph College will hold an opening for its two spring exhibitions, From Source to Surface: Randolph College Studio Art Faculty Exhibition and a sculpture and site-specific installation by Rebecca Smith, Atmospheric Conditions: Gathered and Unsettled.
From Source to Surface is a group exhibition, featuring painting, prints, and sculpture by Randolph College's studio art faculty including Chris Cohen, Brooke Marcy, James Muehlemann, Kathy Muehlemann, and Dan Shipley. The exhibition catalog essay is written by Randolph Professor Emeritus Jim Peterson, the current Pearl S. Buck Writer in Residence. From Source to Surface demonstrates publicly the artistic skills of the College's art department, and provides an important example for Randolph's studio art students. In conjunction with the exhibition, the Maier will hold a panel discussion with the artists on Wed., Feb. 21 at 7:30 p.m., moderated by Jim Peterson.
Opening the same evening at the Maier is Atmospheric Conditions: Gathered and Unsettled, a site-specific installation by New York-based artist Rebecca Smith. Her installation at the Maier will include colored tape "drawings" on gallery walls and painted metal wall sculptures, abstract, though suggestive of and named after glaciers and molecules. Appearing nonrepresentational at first glance, the work actually addresses realities of climate change. Smith's glaciers are icy, stratified. Their steely, grid-like construction seems strong but the thinness of the metal strips and ample negative space between them also suggests a vulnerable fragility. Atmospheric Conditions incorporates two new works by Smith, Globe I and Globe II. Smith describes them as "part of the environmental theme in that they are images of somewhat battered, disfigured planets with continents, communicating the notion of an Earth that has been clogged by pollutants and atmospheric greenhouse gases."
The Maier will hold several events in conjunction with Atmospheric Conditions, including a screening of the documentary Before the Flood on Thursday, Jan. 25 at 7 p.m. Created by Academy Award®-winning filmmaker Fisher Stevens and Academy Award-winning actor, environmental activist, and U.N. Messenger of Peace Leonardo DiCaprio, the film is an account of the changes occurring around the world due to climate change.
Also in conjunction with Atmospheric Conditions, on Saturday, Jan. 27 the Maier will host a symposium with an artist talk at 11 a.m. by Rebecca Smith and panel discussion on "Communities and Climate Change" at 2 p.m. Moderated by Karin Warren, Randolph's Herzog Family Chair of Environmental Studies & Science, the panel will include: Rick Barnes, Randolph's Mary Sable Girard Chair in Psychology and professor of psychology and environmental studies; Laura Henry-Stone, associate professor of environmental studies for Lynchburg College; Kristie Smith, policy and campaigns manager for the Virginia Conservation Network; and Rebecca Smith, visual artist.
Visit www.maiermuseum.org for more information about programs and events at the Maier. During the academic year, the Maier is open Tuesday-Sunday from 1-5 p.m. Admission to the Maier and its programs is free, unless otherwise noted.
Tags:
art, art history, climate change, exhibitions, faculty, Maier Museum of Art at Randolph College