August 23, 2017
Randolph welcomes Class of 2021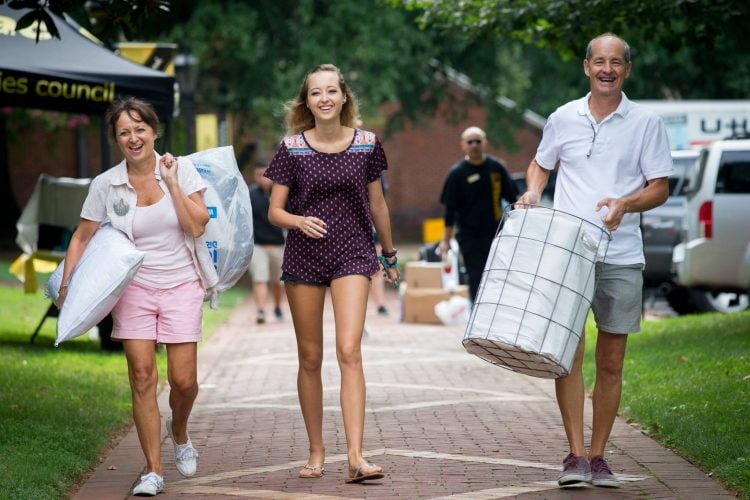 Randolph College welcomed 239 new students to campus Wednesday during the College's annual move-in day.
"It is always a pleasure to introduce yet another class of students to the Randolph family," said President Bradley W. Bateman. "The Class of 2021 is a diverse, academically strong group that will bring an array of talents to our community, and we are excited for all that awaits them—and the rest of our students—in the coming year."
The new students represent an increase in enrollment over last year, when the College welcomed 232 new students. Randolph expects its total enrollment to remain steady at approximately 700 students.
Students and their families were greeted by scores of faculty, staff, and students on Thursday. The volunteers manned registration and information tables and helped load and haul belongings to residence halls.
"I always look forward to move-in day," Bateman said. "This is a time of great transition for many of our families. And for some, this is the first generation to attend college. We are happy to do anything we can to make move-in go as smoothly as possible for our parents and students, and I appreciate the effort our community members put into welcoming these newest members to campus. Sometimes, just being greeted by a smiling volunteer can make all the difference."
During the summer, Randolph completed extensive infrastructure work on campus, replacing multiple boilers in locations throughout campus. In addition, the admissions office moved to a newly renovated property directly across Rivermont Avenue. The Admission Welcome Center now resides in the former Columns building, which the College purchased last year.
The new academic year will also include the addition of Randolph's newest major, museum and heritage studies. The new interdisciplinary program will introduce students to a rich variety of approaches for presenting and studying visual and material culture. The program is designed for a broad range of students in the arts, humanities, and social and natural sciences. Randolph is one of only a handful of schools in the nation with this new major.
In addition, the College recently announced the addition of a new M.F.A. in creative writing. The low-residency program will begin in the summer of 2018.
Randolph will also continue offering its special financial aid program for students from the surrounding area (Lynchburg City and the counties of Amherst, Appomattox, Bedford, Campbell, and Nelson) area for the upcoming academic year. The Local Area Educational Program (LEAP) guarantees that students from the area will pay no more than $12,000 in tuition each year. For more information, please see: www.randolphcollege.edu/leap.
Randolph will also continue to offer its free science and art sessions for high school students on weekends this fall. Science + Art Saturdays offer a variety of hands-on activities. For more information or to register, please go to: http://www.randolphcollege.edu/sciencesaturdays.
Classes for the 2017-18 academic year begin Aug. 28. On Aug. 30, Randolph will officially open the academic year with its annual convocation ceremony.
Tags:
Bradley W. Bateman, Class of 2021, creative writing, LEAP Program, MFA, move-in day, museum and heritage studies, Science + Art Saturdays