May 14, 2017
Randolph sends forth Class of 2017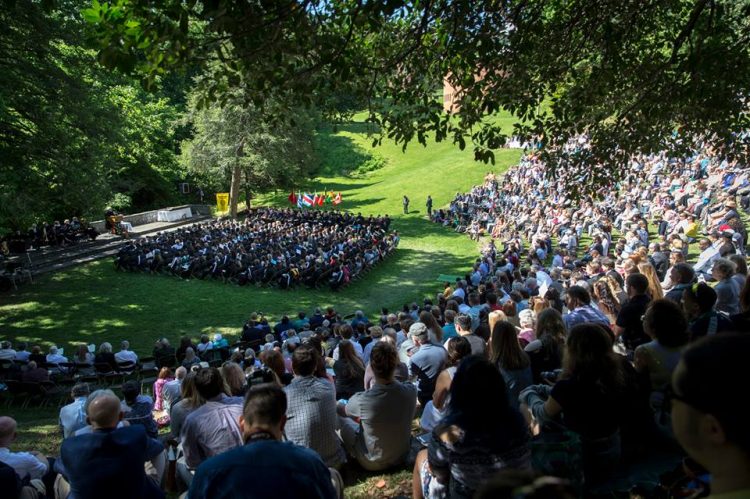 On a sunny Mother's Day morning, families, friends, faculty, and staff gathered in the Dell to celebrate the Randolph College Class of 2017. The message of the day was one of perseverance in difficult times and the importance of expressing gratitude for accomplishments in life.
MORE COMMENCEMENT 2017 COVERAGE
At the ceremony, 144 graduates were honored, including those enrolled in Randolph's master's degree program. The College also recognized the recipients of the prestigious Maude Huff Fife Award. The award, named after a graduate of the Class of 1918, is given to the student (or students) whose quality point ratio is the highest in the senior class. This year, the award was shared by two graduates: Katya Schwab and Brian Anderson.
Originally from Arvada, Colorado, Schwab earned B.A. degrees in communication studies and philosophy. She is a member of Phi Beta Kappa, and was a routine recipient of dean's list honors. During her time at the College, she served in various leadership roles including president of the Macon Activities Council, editor-in-chief for the Sundial, and head resident assistant. In 2015, she earned the Carla Heath/James Hoban Award in Communication Studies. She also completed multiple prestigious internships, first as a writer for the Pittsburgh Post-Gazette in 2015 and also a position in the development office of the National Gallery, London in 2016.
Anderson earned B.A. degrees in global studies and sociology, and received three awards for academic excellence in both his majors this spring: the Outstanding Senior in Sociology Award, the J. Kenneth Morland Award in Sociology, and the Outstanding Student Leader in Global Studies Award. Originally from Brandywine, Maryland, he is a member of Phi Beta Kappa, was a routine dean's list recipient, and was a standout on Randolph's men's soccer team.
Leah Hughes, president of the Class of 2017, earned her B.A. in psychology. A native of Spring City, Pennsylvania, Hughes was recognized this spring with the Volunteer Leadership Award, and the Frank Murray Award in Psychology. In addition to serving as a Gold Key Guide, she was president of the Student-Athlete Advisory Committee (SAAC), and was a member of both the women's soccer and lacrosse teams.
As a next step, Hughes plans to return to Pennsylvania, where she will attend graduate school at the University of Pennsylvania and study mental health counseling. She ultimately wants to start her own private practice in behavioral therapy for children and teens with physical and intellectual disabilities.
At Commencement, Hughes played off of the Odd versus Even rivalry between the classes, joking that, "You have to be Odd to be number one." She went on to share some of her classmates' best memories and what made their time at Randolph special.
"If I could, I would have gone through naming each graduate and how they contribute to making our class special," Hughes said. "I am truly honored to be graduating with all of these wonderful people."
In a world that often seems cruel and cold, Hughes encouraged her classmates to be a positive influence for others and to use their communication skills for good.
"Use the power of your words to uplift others, make someone smile, share a kind or thoughtful word to brighten someone's day," Hughes said. "Yes, negative things happen; people make poor choices, anger happens, and sometimes we speak before we think, because I know I have. But this is also a beautiful world filled with opportunity, kindness, generosity, and love. We just have to rediscover them again. I truly believe that we, the Class of 2017, can start that movement of rediscovering simple acts of kindness and compassion."
Nancy J. Cable, president of the Arthur Vining Davis Foundation, served as keynote speaker at the ceremony. Recognized nationally as a leader in higher education access, finance, and affordability, Cable's higher education experience has included positions at Denison University, where she served as a faculty member and dean from 1977-1986. She worked at Guilford College from 1986-1991 and was vice president and dean of admission and financial aid at Davidson College from 1991-2005. From 2005-2009, she served as vice president for development in the College of Engineering at the University of Virginia and later with the University's Semester at Sea program.
A member of Phi Beta Kappa, Cable earned her B.A. in history from Marietta College, a master's degree from the University of Vermont, and her Ph.D. from the University of Virginia. She also graduated from the Harvard University Institute for Educational Leadership.
At Commencement, Cable advised graduates to be lifelong learners and to prioritize quality over speed in any work they do.
"It's not about what we learn, it's about how you develop your mind—and your heart—for the capacity to learn in this complex and reliably unpredictable world," Cable said. "Your Randolph education that came from the hard work of your faculty and your faculty advisors, from your classes and your efforts on the court and the playing field, your work study job, and your becoming an officer in a club or in your residence hall.
"All of these experiences—borne completely from your own energy—have given you the habits of heart and intellectual strength to continue to learn yourself and to teach others in this unpredictable world now, tomorrow 10 years from now in your many careers, your volunteer work and home life, and as you slow down into old age 50 years from now and come back to Randolph College for your 50th Reunion," Cable added.
By attending a liberal arts college, Cable told the graduates they have achieved five traits that are essential in today's society: flexibility, curiosity, innovative instincts, resilience, and gratitude. She gave examples of how others who have come before have expressed their gratitude and thankfulness. One she gave was the namesake of the Arthur Vining Davis Foundations.
As a young scientist, Arthur Vining Davis lived in a garage in Pittsburgh, Pennsylvania, where he experimented with aluminum. Along with some fellow researchers, Davis went on to found ALCOA, the Aluminum Corporation of America. But even from his early days as a college graduate, he was known for giving back, and he eventually founded the philanthropic organization Cable serves as president for today.
Cable encouraged graduates to follow Davis' example and express their gratitude as often as they can and in any way they can. She also took a moment to express her own thanks for the Class of 2017 and the contributions they made to the College and will go on to make in the world.
"We are so thankful for each of you," Cable said. "Your hard work, your persistence, and your willingness to be resilient in classes… We are grateful for your sense of humor and your contributions to this fine college that is a much better place because you were here, and you will always be welcome back."
President Bradley W. Bateman concluded the ceremony by also applauding the students for their openness and appreciation for the diversity of human life.
"You have modeled the behavior which many lament may have disappeared from American society," he said. "For this, you have given me great hope. Hope for the future of this country and hope for the future of democracy. For this, I feel great gratitude. I am grateful for your upbringings and the ways that your families shaped you. I am grateful for your openness to the liberal education that our distinguished faculty have offered to you. I am grateful for every good choice that you made and for your care and respect for each other.
"I am grateful for you, the Class of 2017," he added. "You have been leaders in shaping this College."
Tags:
Bradley W. Bateman, commencement 2017, Leah Hughes, Maude Huff Fife Award, Nancy Cable, outcomes