May 5, 2017
Randolph 2017 Commencement scheduled May 14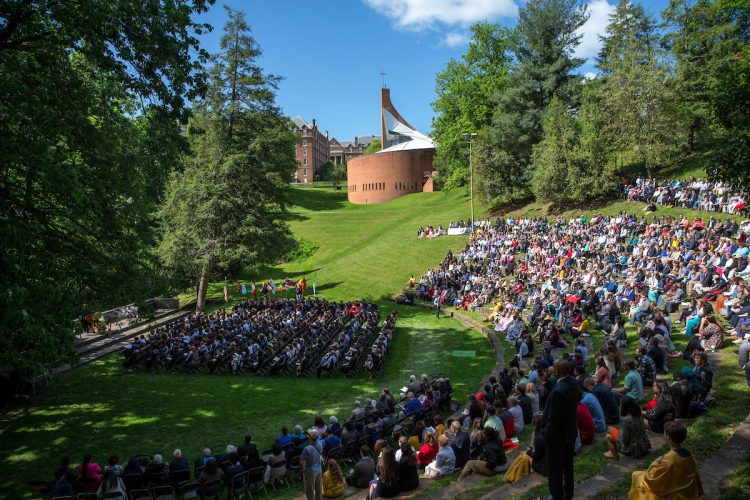 Randolph College will hold its 2017 Commencement ceremony Sunday, May 14 at 10 a.m. in The Dell on Randolph's campus. The event will be streamed live online at https://portal.stretchinternet.com/randolph/, and updates will be posted throughout the weekend on College social media accounts with #RandolphGrads.
In addition to Sunday's Commencement, other traditions and events are scheduled for the weekend of festivities. Daisy Chain will take place on front campus at 1:45 p.m. Friday, May 12, followed by the Final Friday reception honoring the graduates at 2:30 p.m. in the Hampson Commons. The Baccalaureate service is scheduled Saturday, May 13, at 11 a.m. in Houston Memorial Chapel. Also on Saturday will be the Phi Beta Kappa Initiation Ceremony at 1:30 p.m. in the Alice Ashley Jack Room of Smith Hall. The conferring of master's degree awards will take place at 3 p.m. in the Maier Museum of Art at Randolph College.
Nancy J. Cable, president of The Arthur Vining Davis Foundation, will serve as 2017 Commencement speaker. Recognized nationally as a leader in higher education access, finance, and affordability, Cable is known for her achievements in widening access to college for students from all walks of life.
"It is a privilege to welcome a woman who has devoted her life to teaching in, working in, and studying the American liberal arts college," said Bradley W. Bateman, president of Randolph College. "She understands the importance of what we, and other liberal arts colleges do for our students, and she shares our passion and commitment to preparing students not only for future careers, but also for better lives."
Cable was appointed president of the Arthur Vining Davis Foundations in 2012. Before this position, she served as interim president of Bates College, where she led college-wide efforts on governance, faculty, and curricular issues, and matters of diversity and inclusion. Before being elected as interim president, she spent three years serving as vice president.
Her higher education experience has also included positions at Denison University, where she served as a faculty member and dean from 1977-1986. She worked at Guilford College from 1986-1991 and was vice president and dean of admission and financial aid at Davidson College from 1991-2005. From 2005-2009, she served as vice president for development in the College of Engineering at the University of Virginia and later with the University's Semester at Sea program.
A member of Phi Beta Kappa, Cable earned her B.A. in history from Marietta College, a master's degree from the University of Vermont, and her Ph.D. from the University of Virginia. She also graduated from the Harvard University Institute for Educational Leadership. A student of the history of American higher education, she has focused her academic work on the history of liberal arts colleges during the progressive era from 1870-1915. She has written articles on higher education governance, access, and quality indicators in selective college admission, and assisted in the research for a group of liberal arts colleges for issues related to preferential admission for under-represented populations at highly selective colleges.
Cable is one of the charter founders of the University of Virginia's Semester at Sea program, known as the Desmond Tutu Program in Global Understanding, and the CY Tung Scholars program on U.S.-China Relations. She was chosen as a Fulbright Senior Specialist in the humanities and has consulted with the director of the Fulbright Center in Hong Kong on the development of the liberal arts within the evolving Chinese higher education system.
Her professional service has included numerous boards, including the National Merit Scholarship Corporation, Marietta College, the National Conference of Christians and Jews, the College Board Task Force on Equity in Higher Education, among many others. She joined the Board of Trustees of the National Endowment of the Humanities in Washington, D.C. in January.
For a detailed schedule and more information, please visit http://www.randolphcollege.edu/commencement/.
Tags:
Commencement, commencement 2017, events, Nancy Cable, speakers, traditions