May 12, 2017
A Part of History
Randolph students join historic Women's March on Washington
On the morning of January 21, Sophia Dill '18 was one of thousands of people waiting to board the Washington, D.C. Metro.
While standing in a long line that stretched down the street, Dill chatted with a young girl beside her. Unfazed by the massive crowd and noise level, the 3 year old excitedly chatted about how she was off to join the Women's March on Washington. As she talked, Dill was reminded just who she herself was marching for that day. It was a moment of clarity about the significance of the historic event in which she was about to participate.
"To be a part of the Women's March was momentous," she said. "Being part of it was something that I really can't put into words."
She was one of 32 Randolph students, faculty, and staff who traveled together to participate in the march. The College's Student Government paid for the bus transportation after receiving numerous inquiries and interest from members of the student body, according to Eva Heitbrink '17. As Student Government president, Heitbrink was pleased when the administration agreed to the request.
"We didn't want to isolate anyone or take sides, but it was a chance for students to take part in a major event and gave them the opportunity to stand up for their rights in whatever way they wanted to," Heitbrink said.
Sean Alberts '17 chose to march as a sign of solidarity with his fellow female citizens. In addition to supporting women's rights, he found that some protesters also took the opportunity to raise awareness for issues like climate change, racial equality, immigration, and LGBTQ rights. Even as a male participant, Alberts felt included and empowered.
"I was planning on going whether or not Randolph offered me the ride," he said. "It's not something I'm going to forget. Because of the inclusivity, I never felt as if being a male at a women's march, that I shouldn't be there. In fact, I almost felt like me being a male almost reinforced why I should be there. Women's issues can't be handled only by women; they need men to stand by them as well."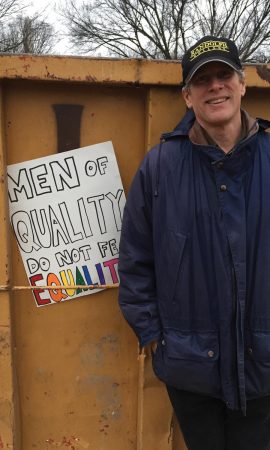 Randolph sociology professor Brad Bullock also attended the march, and, as a social scientist, enjoyed watching history unfold.
"In conversations I've had with the students who participated, there is a shared sense that they were a part of something special and truly historical," Bullock said. "Everyone talked about the energy and passion they felt, the creative use of humor, and the peaceful expression of so many serious concerns; but, above all, how heartening it was to see so many people in the streets. Many confirmed that it made them embrace a new or renewed sense of activism, and this can only be a good thing."
President Bradley W. Bateman said he admired the Randolph students who had the conviction and discipline to organize the trip.
"We're offering an education that prepares students to enter the world and make a difference," he said. "It's important, while they're still students, that they begin to learn how to apply those skills and that knowledge so that they can be more effective when they do enter the world.
"If our students are going to make a difference in the world, part of making a difference is expressing your opinions when you agree or you disagree with a policy, and they're doing exactly that," he added.
On April 22, students had another opportunity to voice their opinions—this time, closer to home. Randolph's Sustainability Council, along with groups from other area colleges, organized the Science and Earth Day Gathering in downtown Lynchburg. The event was intended to celebrate both Earth Day and the importance of scientific and climate research, and was a satellite event for the national March for Science.
Karin Warren, the Herzog Family Chair of Environmental Studies, was one of several Randolph faculty and staff members who helped organize the local event.
"Being knowledgeable advocates for science and environmental protection is more important than ever," Warren said. "By participating in events like the Science and Earth Day Gathering, our students are making a statement to the community that science and the environment are important to society, and need to be supported and valued by our lawmakers."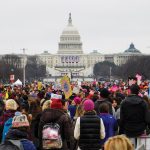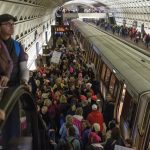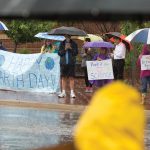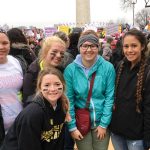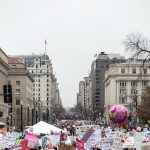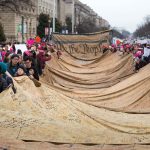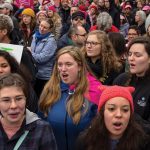 Tags:
Brad Bullock, Bradley W. Bateman, Eva Heitbrink '17, Karin Warren, Randolph Magazine Vol. 8 No. 2, Sean Alberts '17, Sophia Dill '18, Sustainability Council