January 31, 2017
Spring exhibit explores race, gender, and sexuality in contemporary art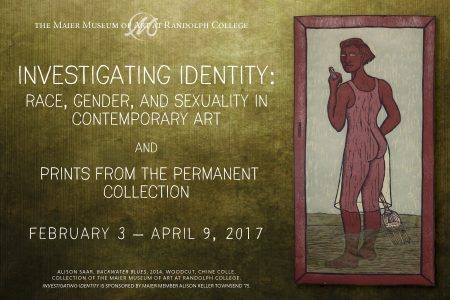 The exhibitions Investigating Identity: Race, Gender, and Sexuality in Contemporary Art and Prints from the Permanent Collection will open Friday, February 3 at the Maier Museum of Art at Randolph College, with a reception at 5 p.m. during Lynchburg's First Friday.
Investigating Identity, curated by Randolph art history professor Lesley Shipley, brings together works from the College's permanent collection that address issues of race, gender, and sexuality. The goal of the exhibition is to foster conversation about the theme of identity in art since 1960 as well as to enhance the art history course, Race, Gender, and Sexuality in Contemporary Art, taught by Shipley during the spring 2017 semester.
For Investigating Identity, Shipley has chosen works by artists such as Benny Andrews, Louise Bourgeois, Lou Draper, Janet Fish, Sam Gilliam, Sally Mann, Elizabeth Murray, Toyin Odutola, Robert Rauschenberg, Alison Saar, Betye Saar, Jaune Quick-to-See Smith, Nancy Spero, May Stevens, Kukuli Velarde, Carrie Mae Weems, and others. The prints by Gilliam, Alison Saar, and Smith are recent acquisitions to the College's collection and will be making their debut in this exhibition.
"Terms like 'identity politics' and 'post-identity liberalism' have become particularly contentious in recent years," Shipley said. "From the activism of Black Lives Matter to Hillary Clinton's struggle to 'shatter that highest, hardest glass ceiling;' from immigration reform to the fight for transgender equality, identity remains a driving, if divisive, force within the United States and around the globe.
"Amidst these challenges, it seems that now, more than ever, art's capacity for multiple, often contradictory, meanings makes it a powerful tool for investigating the complexity of identity issues today," Shipley added. "Indeed, art's capacity for indeterminacy allows it to create space for our most difficult conversations."
The Maier will also hold several programs related to Investigating Identity, including a 15-minute "Spotlight Tour," on Sunday, February 5 at 2 p.m. focusing on In the Fog (2010) by Sam Gilliam, one of the works included in exhibition. On Sunday, February 19 at 2 p.m., the Maier will host visiting artist Zoë Charlton, whose drawings, videos, and sculptures examine issues of gender and race. Her drawings, which explore the ironies of contemporary social and cultural stereotypes, are included in Investigating Identity.
During the academic year, the Maier is open Tuesday-Sunday from 1-5 p.m. Admission to the Maier and its programs are free, unless otherwise noted. Visit www.maiermuseum.org for more information and a complete list of exhibitions, programs, and events.
Tags:
art, art history, exhibitions, Lesley Shipley, Maier Museum of Art at Randolph College