June 3, 2016
Summer Research builds students' engineering, coding skills
Zach Vernon '18 and Leonora Bratvold-Boyd '19 liken their Summer Research experience to a nature adventure. When they began learning coding, the students felt like they were lost in a forest. Now, the pair of aspiring engineers feel more confident in their skills, and it's as if they have found the river that will lead back to civilization.
Vernon and Bratvold-Boyd are working with Sarah Sojka, a physics and environmental studies professor, to build and program a microcosm. The device will be used to measure the velocity of sediment erosion in coastal water systems and is modeled after the Gust Microcosm, which was invented by Giselher Gust, a German scientist with whom the group is working remotely on a modified design.
"He seems enthusiastic that we're starting to do this and is interested in possibly making some future modifications to it," Sojka said. "Part of the benefit of building our own is that these are actually pretty expensive to buy. I think ours will cost just under $1,000 to build."
The group is using simulation software to examine the effects of the possible design changes as well as hot film anemometry to calibrate the system. According to Sojka, the new technology could be patentable and would be a valuable resource for scientists with limited funds. Bratvold-Boyd jokingly calls the microcosm she is helping to build an "underwater dirt tornado."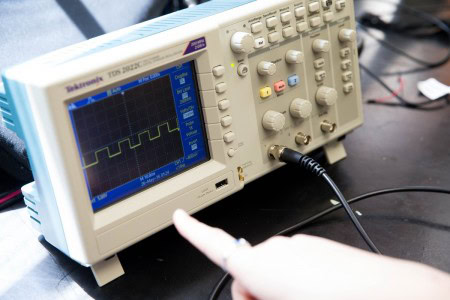 "I'm just glad to already be working on something that I hope will be my field when I get out of college," Bratvold-Boyd said. "I want to be an electrical engineer, and I'm already doing that kind of thing. I know that getting out and doing this in my first year is not particularly common at other colleges, so it's very exciting."
Bratvold-Boyd has worked primarily on the software and programming while Vernon has focused on the hardware, making modifications to the device itself. Both feel they have come out above water with their newfound coding skills.
"I enjoy physically taking raw materials and turning them into something functional," Vernon said. "Doing science when I'm in the lab all day and not building something practical drives me nuts. I like the chance to be out in the field, or even at a construction site or a factory."
Vernon also received some guidance in building trades from Carl Girelli, vice president for academic affairs and dean of the College. Vernon spent several Sunday afternoons at Girelli's home earlier this summer, learning how to use various tools and machinery needed for the project.
"I think that's a really great Randolph aspect of this project—going to the dean's house to work in his workshop," Sojka said. "I don't think that would happen at most schools. He was enthusiastic about it and I think really enjoyed getting involved with the project."
Sojka enjoys watching Vernon and Bratvold-Boyd develop their coding and engineering skills as the summer program progresses.
"Watching them figure out all of these new parts and pieces is something that's different about this than a lot of things you do in class," Sojka said. "It's a little bit of trial and error, and we're learning together."
Tags:
engineering, environmental science, environmental studies, physics, Sarah Sojka, student research, summer research, Summer Research 2016, Zach Vernon