November 1, 2015
Life Changing Opportunity: Randolph students intern at the National Gallery, London
Internship program with the National Gallery, London offers unique work experience to students
When Elisabeth Price '16 learned she was one of just two Randolph students selected for a unique internship at the National Gallery, London this summer, she was convinced the experience would cement her desire to work for a prestigious art museum.
After all, she'd known since she was a sophomore taking her first art history class that she was destined to work as a museum registrar.
But after spending eight weeks traveling and working closely with people from a variety of cultures and backgrounds, Price began to consider careers that might allow her to merge her newfound love of travel and culture with her passion for art.
"Being in London and working at the National Gallery helped me realize that although being a registrar would still be an amazing career
opportunity, there are other things that I would like to explore regarding museum studies and art history," Price said.
After talking with a friend who worked for the U.S. Department of State, Price decided to look at careers in cultural heritage and preservation for the government agency. "Working at the State Department would be a perfect mix of my interests of travel and art history," she added.
Opening New Worlds
Price's experience with the internship is a perfect example of why Randolph professors and administrators encourage students to engage in these types of opportunities. In this case, Price and Seisha Scott '16 were the first participants in the new internship (or work placement as it is called in London) program, which was established as part of Randolph's unique academic partnership with the National Gallery, London. The first year of this competitive internship program was funded by Becky Jarvis '65.
"This one-of-a-kind opportunity for our students is just another benefit of the unique partnership Randolph College holds with the National Gallery," said Bradley W. Bateman, Randolph's president. "This internship program not only provides our students with potentially life-changing work experience, it opens a new world to them."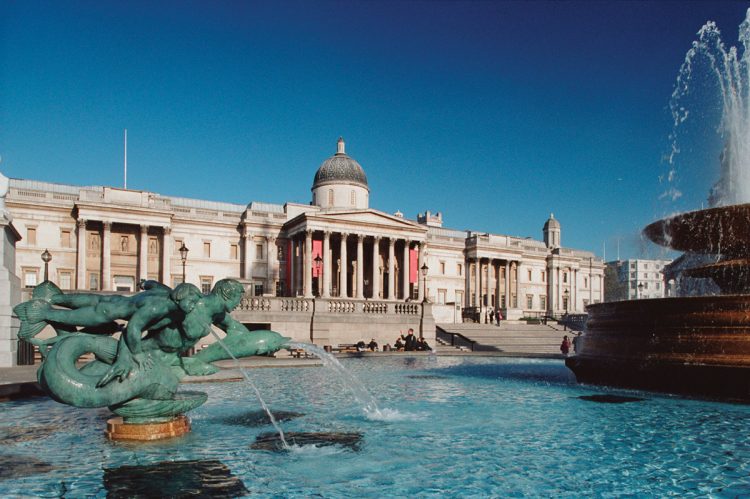 During their summer at the National Gallery, the two students split time working in various departments. Price primarily worked in the Registrar's Department, but also spent time organizing exhibitions and creating digital archives of old files.
Like Price, Scott went into the internship with a clear career path in mind. Several previous internships locally had spurred an interest in event planning. The experience with the National Gallery, London gave Scott the opportunity to expand her knowledge to development and fundraising. Now, she plans to pursue a graduate degree in project management.
"It's amazing to say that I was the first person to obtain and fulfill a profound and prestigious internship such as this," Scott said. "This shows that Randolph College's liberal arts education allows students to pursue any interests they desire. I'm a business major with an explorative interest in non-profit organizations. I
wanted to challenge myself by diving into a field I'm not familiar with. I have an interest in graphic design and multimedia art, but I've never explored the traditional arts. This internship gave me a new appreciation for art as a business major."
Both students felt compelled to make sure the National Gallery, London saw how seriously they took this opportunity. "It's a huge institution, and so much important stuff was put on my back," Price said. "At first I was really stressed out, but quickly I realized I could do it, and started being able to adapt to this new kind of situation, learning and changing my ways to fit into another culture. It also helped me become more willing to ask questions and let people help me, which is definitely one of my weaknesses."
Cultural Shifts
Cultural differences between social and work life in London also offered the students the chance to gain a new perspective.
Price remembers trying to get used to how much tea her coworkers drank. "We had to learn to drink tea every morning. And every time I would take a cup of tea, the person who gave it to me would say, 'Have a biscuit.' So I would eat like five cookies a day and by the end of the day would be shaking from all the caffeine and sugar," she remembered, laughing.
The trip was Scott's first time traveling outside the United States. She plans to pursue a career in the non-profit sector, and said adapting to work in such an unfamiliar setting helped her become more versatile.
"Working with people from a different culture meant I had to be open-minded and listen well," Scott said. "I think most people take those skills for granted, but I know they'll be essential for whatever job I get in life. I know I want to travel more. I learned how to be organized, be independent, and use critical thinking skills while living on my own. I want to make a difference beyond the borders of the United States."
Real-Life Experience
For the most part, Price and Scott worked independently.
Sir Nicholas Penny, who retired as director of the National Gallery, London in August, worked to initiate the partnership with Randolph in 2014, and oversaw museum operations during the students' work placement.
"We didn't think it would be terribly hard work supervising the students, but we thought that it would be us doing the work and helping them," said Penny. "But in fact, they both did a lot for the Gallery. So we are benefiting and are pleased with that part of the partnership as well."
Penny said Price and Scott's extensive experience at the Gallery should help them in their respective careers after graduation, and he added that the Gallery is excited to welcome more students to the program next year. "The benefit for the students is quite big because if you're interested in registrar work and in a relatively small place like Lynchburg, you're going to have very limited opportunities to experience international loan procedures and transporting works of art internationally," Penny said. "Elisabeth now has had that kind of experience and would be better qualified for a career in that kind of work. And in the development office, Seisha got some experience that I'm sure some people would be quite surprised to see on her credentials when applying for future jobs."
Alumnae Connections
Outside of work, Price and Scott immersed themselves in the European culture. They used their National Gallery, London passes to access other art museums across the United Kingdom and one weekend took a mini-vacation to Paris. Scott said one of the most memorable social occasions was when a group of College alumnae, members of the Board of Trustees, and Randolph's president visited the National Gallery during a special trip to London.
"It was nice for the people at Randolph to actually see what we did on a daily basis and experience what we had felt on a daily basis at the National Gallery," said Scott. "Going out of their way to visit made us feel like they really cared about us and it was much more than just an average internship."
Carl Girelli, vice president for academic affairs and dean of the College, believes the new program not only gives students the experience of a lifetime, but also strengthens Randolph's curriculum.
"Whenever a student takes an internship, we want them to be thinking about how their coursework is contributing to their ability to perform well, and what coursework would've allowed them to get more out of the internship so that the experience can inform their curricular decisions," Girelli said. "This internship gave Seisha and Elisabeth a very enriching experience. I think it added a lot that they were able to have a reunion with alumnae who were able to meet them at the National Gallery. It was quite an emotional and special event, and I'm happy the students were able to take part in it."
Scott and Price say they will look back on their experiences with the National Gallery with pride. "This experience will be one of my greatest accomplishments," Scott said. I've learned to live in a new culture, adapt to new work environments and strengthen my skills in my intended field. It gives me confidence that Randolph College has prepared me for the next chapter of my life."
Tags:
art, art history, internships, museum and heritage studies, museum studies, National Gallery, partnership, Randolph Magazine Vol. 7 No. 1, Seisha Scott '16, summer internships