July 31, 2015
High school volleyball players dig Randolph's Advanced Skills Camp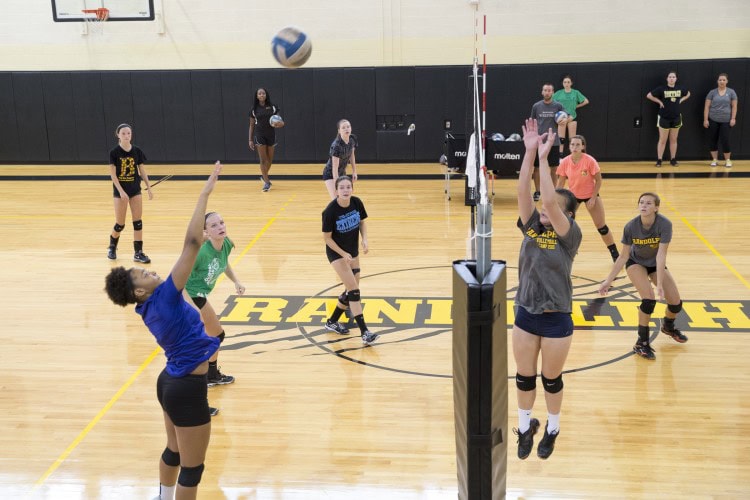 Several high school volleyball players who will don black and yellow WildCat jerseys this fall got a preview of what it will be like to be a team member this week.
Madison Bunting '19, Brooks Gillerlain '19, Abbe Bane '19, and Rebecca Lesnak '19, along with 18 other high school athletes from across Virginia and from three other states, participated in the Overnight Advanced Skills Camp. The four-day, three-night camp focused on volleyball fundamentals and skill building in the areas of passing, setting, and hitting for participants in grades 9-12.
"The game-play exercises have been really fun," said Morgan Blank, a rising 9th grader at Brookville High School. "It's been nice playing with and against so many different people."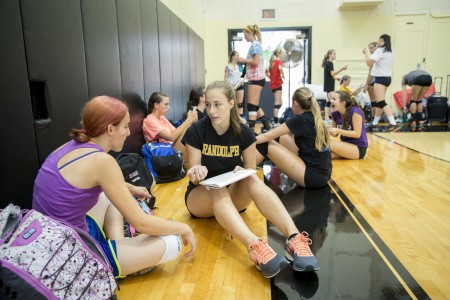 Most of those who attended camp already play varsity level volleyball for their high schools, while others looked to improve before trying out for varsity teams. "As far as skill level, our tournament play and game drills during camp are almost at the college level. They're really intense," said Kara Matthews, Randolph's head volleyball coach and director of the camp. "This is one of the most skilled camp groups I've worked with."
Participating players were able to experience a taste of college life by staying in Randolph's residence halls. Taylor Webb, a rising senior at Northampton High School whose twin sister Kennedy also attended camp, said she enjoyed meeting new people almost as much as she enjoyed learning new skills in camp.
"Staying in the dorm the first night was kind of awkward because I didn't know anybody yet, but it's been really fun since, and now I think I'd like to go here," she said.
Matthews is entering her first full season as head coach, after serving as interim coach of last year's team. She was an assistant coach during the 2012 and 2013 seasons. After being picked to finish 11th in the conference last season, the WildCats came in sixth after mustering a 19-11 (6-5 ODAC) record and earning a berth in the ODAC Tournament. The team made it to the tournament quarterfinals before being eliminated by W&L.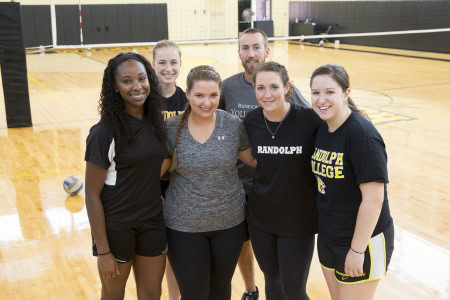 Marissa McClinton '16, a member of the volleyball team, served as a leader at the camp this week. "I enjoy watching the girls make progress and learn," said McClinton. "They're like sponges absorbing all the information, and they're doing very well with what we teach them."
Assistant coach Catherine Lesnak '15 also helped this week. She is a new face on the coaching staff, yet a very familiar face to the team. "I've gone from playing with these girls as a teammate last year to coaching them when practice starts this August," she said. "It's a strange feeling, but it's exciting."
The young team and its new leaders will be tested early in the season when they play conference foes Randolph-Macon and Washington & Lee–two of the top teams in the ODAC last year.
Tags:
athletics, fall athletics, Kara Matthews, summer camps, volleyball