June 12, 2015
Randolph College and CVCC sign new dual enrollment agreement
A new partnership between Central Virginia Community College (CVCC) and Randolph College will provide eligible community college students with an affordable option to earn a Randolph College degree.
On Friday, officials from Randolph College and Central Virginia Community College (CVCC) signed a Dual Admission and Enrollment Agreement that will allow qualified high school graduates to enroll simultaneously at Randolph College and CVCC.
Students accepted into the program will earn their Associate of Arts and Sciences degree or Associate of Science degree at CVCC, and then attend Randolph College full-time beginning in their junior year. The CVCC students will be allowed to take one course per semester at Randolph. The students will pay CVCC prices for the Randolph courses, and credit for those courses will be applied to the student's CVCC degree requirements.
"We are excited about this opportunity to help area students have greater access to the high quality liberal arts education offered here," said Bradley W. Bateman, president of Randolph College. "For many students, a community college program is the best answer for them after high school. This new program gives students the best of both worlds. They are able to experience some of the wonderful faculty and community at Randolph while finishing their associate's degree at CVCC. It's a program that will save families money and help students transition more easily to a four-year institution."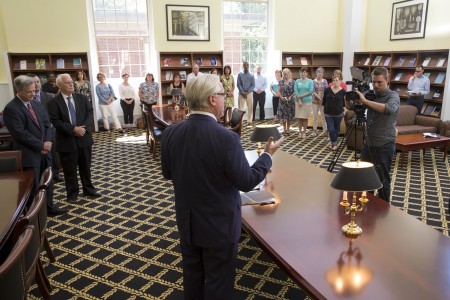 Academic advisors at both Randolph and CVCC will work with each enrolled student throughout the process. In addition, the students' dual-enrollment status will enable them to have the opportunity to participate in most events, clubs, and organizations at Randolph.
Once the degree requirements at CVCC are met, the students will be eligible for Randolph's special financial aid program for students from the surrounding area (Lynchburg City and the counties of Amherst, Appomattox, Bedford, Campbell, and Nelson), the Local Educational Access Program (LEAP). LEAP provides eligible students from the local area tuition of $10,000 (after scholarships and grants).
"We are thrilled to be able to offer this dual enrollment opportunity to our students," said John Capps, president of CVCC. "This agreement complements Randolph's Local Education Access Program, which allows area residents to attend Randolph College at a reduced tuition. It thus demonstrates Randolph's commitment to make higher education more accessible and more affordable to more students. This new dual admission agreement will enable CVCC students to experience Randolph College as first-years and sophomores, transfer after earning an associate's degree, and enjoy the benefits of a world-class liberal arts education."
Tags:
Dual admission, Dual enrollment, LEAP Program, partnership