June 2, 2015
Grant allows faculty to attend Institute on General Education and Assessment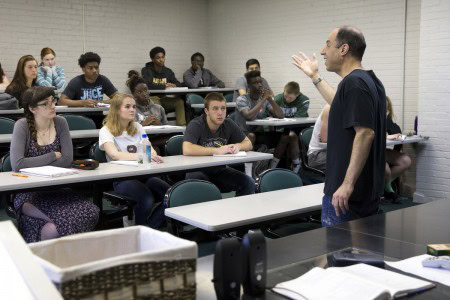 Thanks to a $100,000 grant from The Andrew W. Mellon Foundation, a team of Randolph College faculty members is spending the week at the Association of American Colleges and Universities' (AAC&U) Institute on General Education and Assessment being held June 2-6 at the University of Central Oklahoma.
The teams participating in this year's institute are focusing on building campus learning cultures that support the design principles developed as part of the General Education Maps and Markers (GEMs) initiative. Through emphasizing implementation of intentional, well-defined, and meaningfully assessed general education curricula, GEMs promotes equity-minded planning to ensure success for campuses with increasingly diverse students and faculty.
Randolph's participation in the institute is funded through a $100,000 grant received last fall from The Mellon Foundation. The grant supports a two-year initiative by Randolph faculty and administration that includes an intensive, faculty-wide exploration of general education, both at Randolph and at other highly successful liberal arts institutions.
A core group of faculty is leading the initiative, which includes internal reviews of the College's general education curriculum as well as external study of other colleges and universities. In addition to workshops for faculty led by nationally renowned experts, a team of selected professors will participate in the American Association of Colleges and Universities Institute on General Education and Assessment.
Faculty members involved in the initiative include Danielle Currier, Vincent Vecera, Kaija Mortensen, Sarah Sojka, Brad Geisert, Kristin Bliss and Carl Girelli, Randolph's vice president for academic affairs and dean of the College.
Girelli said the institute should help gauge the quality and effectiveness of Randolph's general education program and help faculty members determine whether Randolph should restructure its current curriculum.
"We're going to spend four days in Oklahoma, learning from facilitators and from people at other institutions and from our conversations amongst ourselves about what's possible for our general education and whether our current general education is doing all it can do for our students," Girelli said.
The Mellon grant will also fund two First-Year Seminar pilot programs that will intentionally address the liberal arts tradition, particularly with respect to the arts and humanities.
Tags:
American Association of Colleges and Universities, General Education Maps and Markers Initiative, grantroll, grants, Institute on General Education and Assessment, The Andrew W. Mellon Foundation