March 19, 2015
Randolph College announces first recipients of National Gallery, London internships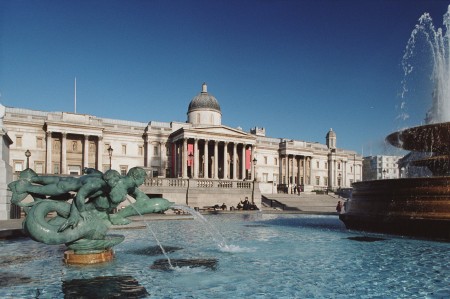 The first two students selected to receive prestigious internships with the National Gallery, London were announced by Randolph College this week. Elisabeth Price '16 and Seisha Scott '16 became the first participants in the new internship program, which was established as part of Randolph's unique academic partnership with the National Gallery, London.
The competitive internship program is funded by Rebecca Jarvis '65.
"We are proud to announce the first two recipients of new internships with the National Gallery, London," said Bradley W. Bateman, president. "This one-of-a-kind opportunity for our students is just another benefit of the unique partnership Randolph College holds with the National Gallery. This internship program not only provides our students with potentially life-changing work experience, it opens a new world to them. We are grateful to the National Gallery for working with us to create this program but also to the alumna who is financially supporting the program.
Price will work in the Dossiers and Registrars Department and Scott will work in the Development and Events Department. Price is an art history major with an emphasis in museum studies. She has completed internships at the Walters Art Museum as well as the Maier Museum of Art at Randolph College. After graduation, Price hopes to work as an art museum registrar.
"Having this opportunity as an undergraduate is very prestigious," Price said. "I would not have this opportunity at any other college, which is just another reason why Randolph is a special school. I'm very excited to see where this great opportunity takes me."
A business major with a double minor in multimedia journalism and human services, Scott has gathered substantial experience in events management through work with the United Way of Central Virginia and the Anne Spencer House Museum and Garden, which has an official partnership with Randolph College.
"I applied for this program because it embodied everything I want out of a future career," Scott said. "I get hands-on experience and a more in-depth understanding of art management at a well-known organization. I will not be sitting behind a desk every day but accepting a new and challenging task. An opportunity like this doesn't just fall in your lap, especially in my field."
The partnership with the National Gallery is the first of its kind for any U.S. educational institution and was developed in 2014 as part of the sale of George Bellows's painting, Men of the Docks. In addition to the internship program, the partnership includes annual visits and lectures on Randolph's campus from high-level National Gallery staff members.
Tags:
internships, National Gallery, partnership