January 23, 2015
Thayer lecture to focus on WWI
The annual Philip Thayer Memorial Lecture at Randolph College will look back nearly a century at the experiences of American soldiers in the First World War.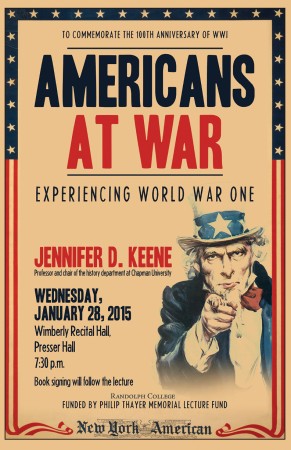 Jennifer Keene will present "Americans at War: Experiencing World War One" on Wednesday, January 28, at 7:30 p.m. in Wimberly Recital Hall. The author of three books about the war, Keene is the chair of the history department at Chapman University.
The lecture will explore several facets of life for American soldiers who experienced the unrelenting violence of the war, including difficult—sometimes violent—homecomings and a new form of nonviolent protest in the pursuit of social justice. Gerry Sherayko, a history professor and a member of the Thayer lecture committee, said the lecture will give people greater understanding of how war impacts individuals—and the world.
"In our culture today, we see a smaller and smaller percentage of people who are in the military," he said. "I think sometimes people need to be reminded what it means to be in the military and what it means to fight a war. War has had a huge impact on the world, the people who fought it, and on this country."
WWI began in 1914, just over 100 years ago, and the United States entered in 1917. WWII tends to attract more attention from Americans, but WWI and its outcomes laid the foundation for many historical events since then—the rise of the U.S. as an economic superpower; the rise of fascism, Naziism, and communism; conflict in the Middle East; and more.
"So many parts of the modern world, including places you wouldn't think of, were affected by the First World War," Sherayko said. "So much comes from a war that isn't really in the American consciousness.
"To understand our world today," he continued, "we have to understand both what occurred in the war, and the aftermath of the war."
The Thayer lecture, named for a respected retired Randolph history professor, brings a scholar to Randolph College each year to lecture in the liberal arts. The event is made possible by the Philip Thayer Memorial Lecture Fund.
Tags:
Gerry Sherayko, giveroll, history