October 6, 2014
Randolph College presents Oedipus the King
Randolph College once again brings ancient Greek drama to life for the Lynchburg community this weekend.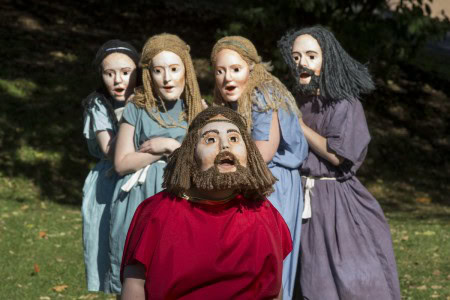 The 2014 Greek Play, Oedipus the King, will be performed Friday, Saturday, and Sunday at 4 p.m. each day. Admission is free. All performances are held in the Dell, the College's authentic Greek theatre, or in Houston Memorial Chapel in case of rain.
Although Oedipus is one of the most-read works of ancient theatre, the cast and crew have worked to bring a fresh perspective on the story, said Amy R. Cohen, director of the play and of the Center for Ancient Drama.
First performed in the 420s bce, Oedipus the King by Sophocles is now seen as the epitome of ancient tragedy for its terrible ironies and for its musings on humanity and fate. Oedipus, the good king of Thebes, slowly discovers over the course of the play that he has, in fact, fulfilled the prophecy he was trying so hard to avoid: that he would kill his father and wed his mother.
The Randolph College Greek Play, as always, uses original practices, including masks and a chorus in the College's Greek Theatre.
The Greek Play is supported by the Greater Lynchburg Community Trust.
Randolph's Greek Play is a longstanding tradition at the College, dating back to 1909 when Mabel K. Whiteside, professor of Greek, directed a performance of Euripides' Alcestis in Greek. She led her students in an annual production of a Greek play from then until her retirement in 1954.
Cohen and her students revived the tradition with the production of Sophocles' Antigone in 2000, and Oedipus the King is their ninth production on Randolph's campus. Cohen also produced the centennial Alcestis in Greece in 2009.
The Randolph College Greek Play adheres to most of the original conventions that governed theatre in the time of the great tragedians, believing that the best plays will emerge from the conditions for which they were written. The plays are performed in an outdoor Greek theatre, which allows the plays to be performed in daylight for an audience seated in a semi-circle around the performers.
For more information, visit the Greek Play website.