October 8, 2014
Amanda Denny honored for making an impact on the community
Amanda Denny, Randolph College's director of leadership and engagement, was honored this week for her work to serve, teach, and prepare leaders.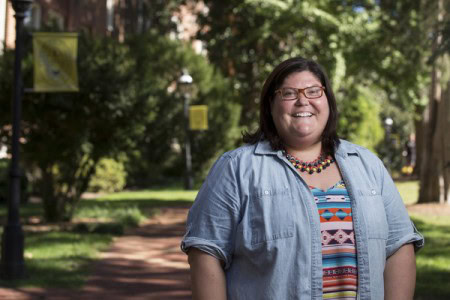 Denny was one of 43 women nominated for the DePaul Community Resources Women of Achievement Awards. At an awards ceremony on Tuesday, Denny was announced as the winner for the organization's Human Relations award.
The Human Relations award is given to a woman "whose impact has been on the betterment of the community, and enhancement of the quality of life of those with whom she is associated," according to the DePaul Community Resources website.
Denny came to Randolph as a student activities director, but last year she was asked to develop leadership development and community service program.
"Amanda is dedicated to serving others and providing opportunities for Randolph students to extend their learning beyond the classroom," said Matha Thornton, vice president for student affairs and dean of students. "The energy and enthusiasm she brings to our student leadership and community service programs are remarkable, and we are thrilled that other organizations also recognize the impact she is making on the community."
Tags:
community service, leadership, staff