September 22, 2014
Poet Natalie Diaz visits Randolph for public reading
Randolph College will kick off its 2014 Visiting Writers Series with the recent winner of a prestigious poetry prize.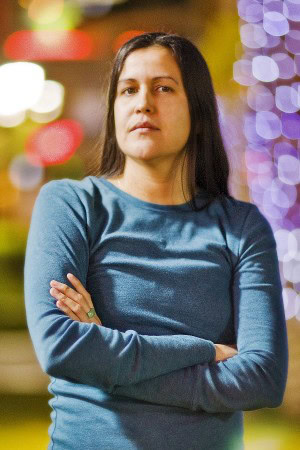 Natalie Diaz, the author of the poetry collection When My Brother Was an Aztec, will read some of her poetry at 8 p.m. Wednesday, Sept. 24, in the Alice Ashley Jack Room in Smith Memorial Building. The reading is free and open to the public.
This summer, Diaz won the Holmes National Poetry Prize from Princeton University.
"Natalie Diaz is one of the most excited voices in contemporary poetry. We're lucky to have her coming to campus," said Gary Dop, a Randolph English professor. "Allowing our students the opportunity to closely interact with the most influential and engaging writers not only inspires them as readers but also helps them believe in their own path as writers."
Dop first heard Diaz read her poetry in South Dakota several years ago. He immediately felt drawn to her words. "Her poetry is accessible and rich, full of engaging images and philosophical verve," he said.
Several English classes at Randolph are reading Diaz's work this semester. "Her poetry is both bitterly raw and sweetly crafted," said Erin Vasta '15. "The Visiting Writer's Series at Randolph provides students, faculty, and community members with the unique opportunity to hear these poems spoken by the author herself."
In addition to the public reading, Diaz will participate in an English class.
Diaz was born and raised in the Fort Mojave Indian Village in California. She is Mojave and an enrolled member of the Gila River Indian community. She earned a B.A. from Old Dominion University, where she returned for a Master of Fine Arts after playing professional basketball in Europe and Asia. In addition to writing poetry, she works with the last living speakers of the Mojave language to teach and revitalize the language.
Tags:
English, visiting writers, visiting writers series