September 10, 2014
Internship Match-Up will connect students with career opportunities
Randolph College students can discover dozens of internship possibilities at the Internship Match-Up on Wednesday, September 17.
More than 50 companies and nonprofits in the Lynchburg area will gather at Phase 2, a local entertainment and events center, to meet college students and talk about internship opportunities. Like the first Internship Match-Up one year ago, some may even conduct interviews and offer intern positions on the spot.
"The support of our students by local employers is really evident in the Internship Match-up," said Maryam Brown '02, Randolph's internship coordinator who is organizing the Match-up. "These are all Lynchburg-based employers who have immediate openings for our students."
The event will run from 10 a.m. to 2 p.m. and Randolph students can take advantage of a free shuttle service from Main Hall to the Internship Match-Up and back continuously.
The event is co-sponsored by Randolph College, the Lynchburg Regional Chamber of Commerce, and two other colleges in the area. It was first organized in 2013 to give the region's smaller colleges an opportunity to meet local employers with openings for interns.
Internships are an important and growing part of Randolph College's academic program, which provides a liberal arts foundation and career preparation for a rapidly changing world.
About 60 percent of Randolph College students complete internships while in college. The national average is 40 percent.
For more information, visit the Facebook event page for the Match-Up.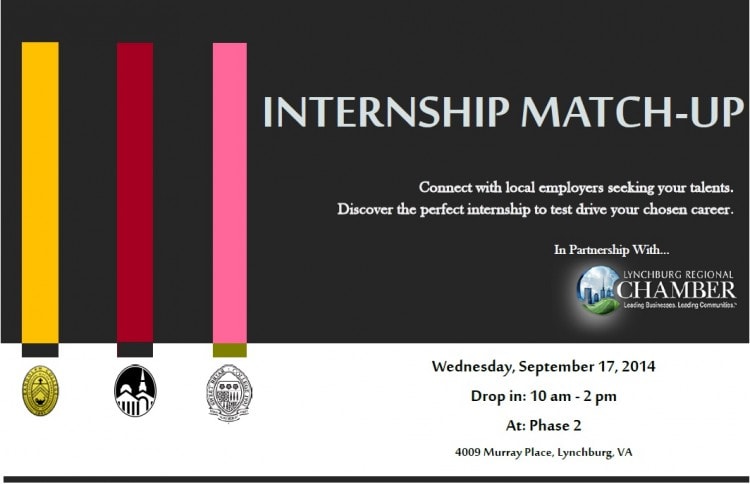 Tags:
internships