July 15, 2014
Summer Research projects aim to increase food sustainability and security
Two Randolph students focused on sustainable food supplies in research projects this summer.
Paul Rush '16 worked on a project that would allow Randolph students to help feed people in need in the Lynchburg community. Hailey Nguyen '15 investigated steps the College could take to improve sustainability of its own food services operations.
Rush started the summer focused on finding ways to reduce the amount of food that is thrown away so it can be donated to organizations that distribute food to the hungry. "Food waste is an environmental hazard. It takes up resources and it costs money to get rid of," he said. He started the summer by researching the laws that impact a college's ability to donate unused dining hall food.
He switched focus when he met with Randolph dining services personnel and learned that efficient planning has caused the College to have very little food waste. His new goal is to establish a Campus Kitchen project at Randolph.
In Campus Kitchens, college students collect food from grocery stores, food banks, and other sources and use the food to prepare a nutritious meal to serve to people in need. In 2013, 34 schools and more than 5,000 volunteers around the nation participated in the Campus Kitchens Project. Rush has started working on a network of places to get donated food, and he is applying for grants that would make the project possible. In August, he will receive training to get a food safety certification. This fall, he hopes to amass volunteers who can make the project a reality.
"I still have a lot to do but it is all coming together nicely," he said.
Nguyen undertook her project because the Randolph College Sustainability Council, of which she is a member, wanted to provide information the College can use next year when its current food services contract expires, creating the opportunity to update and revise dining programs. She worked with Ludovic Lemaitre '11, the College's sustainability coordinator, and Karin Warren, the Herzog Family Chair in Environmental Studies, to conduct the research.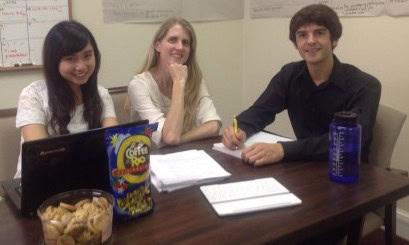 Nguyen began by finding lists of colleges that received high marks for food services. She narrowed that list to look at colleges that had student populations and endowment funds similar to Randolph College's. She lined up visits at several of those schools and spent part of her summer travelling to ask them questions.
Nguyen has gleaned numerous ideas from her visits, including reusable takeout boxes, vending machines with environmentally friendly foods, and partnerships with campus organic gardens.
She recently met with Jim Manaro, the College's vice president for finance and administration, to share her findings about how other colleges implement sustainable features affordably.
"It's a fun project for me because it's opened my mind to different ways we can go green and become more sustainable and more responsible for the earth," Nguyen said.
Tags:
environmental studies, global studies, research, summer research, summer research 2014, sustainability