March 20, 2014
Alumna endows music scholarship to honor piano professor
Laura Geisel Sullivan, M.D. '74 entered medical school at a time when there were few female physicians. And while she was a serious student of biology at Randolph-Macon Woman's College, she also was a talented and dedicated student of piano. As an undergraduate, Sullivan remembers practicing the piano "every night after dinner until 10 p.m., when the night watchman would tap on my practice room door and remind me it was time to go."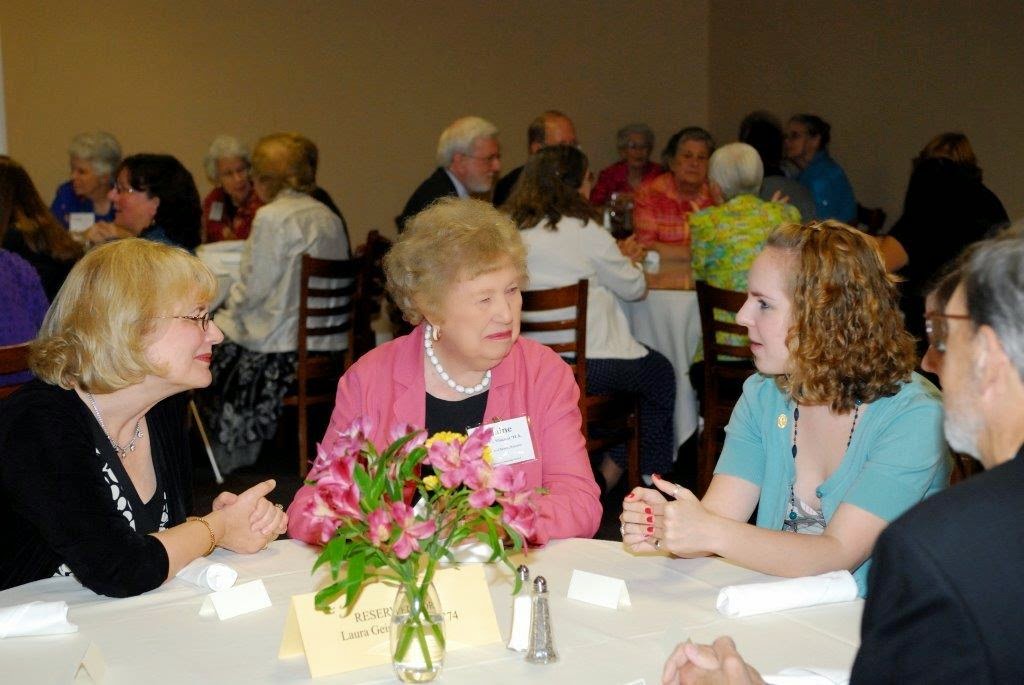 Laura Geisel Sullivan '74 and Elaine Dahl St. Vincent visit with a student
at the 2008 Alumnae Achievement Awards banquet honoring Sullivan.
Balancing the desire to pursue a career in medicine with her passion for piano was not always easy, but Sullivan credits her R-MWC piano professor, Elaine Dahl St. Vincent, with providing constant support and encouragement. In gratitude to her former teacher, Sullivan recently established The Elaine Dahl St. Vincent Endowed Music Scholarship Fund to benefit Randolph College students of piano. In creating the scholarship, Sullivan hopes to assist students who are committed students of piano but for whom a Randolph education is financially out of reach.
St. Vincent served on the R-MWC faculty from 1947-1980 and chaired the Department of Music from 1957-1979. In 1971, the College awarded her the prestigious Gillie Larew Award for Distinguished Teaching. While she taught hundreds of talented students during her tenure, she recalls Sullivan vividly: "Although Laura was not a music major, she was talented and diligent in such a superior way that the music department consented to permit her to play a senior recital. . . Laura was receptive to teaching and, therefore, she was a joy to have as a student."
The close connections Sullivan enjoyed as a student at R-MWC have stayed with her long after graduation. Sullivan, who earned the College's Alumnae Achievement Award in 2008 for her leadership in surgical pathology and hematopathology, has long been a supporter of the College, and her alma mater has played a large role in her extended family as well. Her daughter, Kathryn Sullivan Underwood '09, majored in art history at the College, and her other daughter, Best Sullivan '14, is currently enrolled in Randolph's MAT program. Her niece, Laura Word Taylor '13, recently graduated with a chemistry degree.
Sullivan is thankful to faculty members like St. Vincent for playing such a big role in her life. "Working one-on-one with Elaine all those years, I really got to know her, and I have enjoyed staying in touch with her ever since."
Happily, Sullivan also has stayed in touch with the piano, still balancing the demands of a full time medical practice while finding time to practice piano most days. Recently she performed in her hospital's annual "Physicians in Concert" series. "I played Gershwin's Rhapsody in Blue," she says, adding, "It took a lot of work to get it right, but I think Elaine would have been pleased!"
Tags:
alumna, college scholarships, music, piano