October 28, 2013
Newly published Pearl S. Buck novel now in Randolph College Campus Store
A long-lost novel written by Pearl S. Buck, class of 1914, is now available in the Randolph College Campus Store.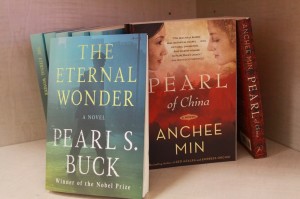 The Campus Store is selling copies of The Eternal Wonder, the recently discovered
novel by Pearl S. Buck, and Pearl of China, a novel that dramatizes parts of Buck's life.
Buck penned The Eternal Wonder shortly before she died 40 years ago. The manuscript was recently discovered in a storage unit in Texas and given to her family. Open Road Integrated Media published the book last week.
The novel tells the story of Randolph "Rann" Colfax, a gifted young man who searches for meaning, purpose, and love. "A moving and mesmerizing fictional exploration of the themes that meant so much to Pearl S. Buck in her life, this final work is perhaps her most personal and passionate, and will no doubt appeal to the millions of readers who have treasured her novels for generations," says the publisher's website.
Pearl of China, a novel by Anchee Min that includes Buck as a main character, is also for sale in the store. On November 12, Min will speak at Randolph College to begin a series of events celebrating the 100th anniversary of Buck's graduation from Randolph-Macon Woman's College. Copies of The Eternal Wonder and Pearl of China will be available at the event.
Tags:
Pearl S. Buck