October 21, 2013
Counseling Center staff member wins statewide poetry award
A Randolph staff member has won the 2013 Library of Virginia Literary Award for Poetry.
The Library of Virginia presented the award to LuAnn Keener-Mikenas, a therapist in Randolph College's Counseling Center, on Saturday. The award designates Keener-Mikenas's latest collection of poems, Homeland, as the best book of poetry published by a Virginia author in 2012.
Keener-Mikenas was excited to learn of this honor. "I feel I've been working toward this since I was 10," she said.
She started writing at about that age, but didn't think of it as a career until much later, in college. "I remember pulling out this drawer full of poems, typing out eight of them, and giving them to the literary magazine," she said. "They published all of them."
Keener-Mikenas earned an MFA in creative writing at the University of Arkansas-Fayetteville in 1986 and began teaching English at Virginia Tech that year. After about 10 years, she became a student again herself and earned a master's degree in social work. Today, she provides counseling services part-time at Randolph, has her own private practice and also works with Centra hospice.
After publishing poems in many journals and magazines, and winning awards including a 1990 Virginia Prize, Keener-Mikenas' first book, Color Documentary, was published in 1994. Many of these poems focus on family and growing up in a rural farming community in Texas. Others are about wildlife and her concern with environmental devastation.
In addition to more personal poems, Homeland contains cycles of poems inspired by wildlife photographs and by paintings documenting pioneers and pilgrims expanding west across the American landscape. "It's about the landscape, the virgin territory of the Americas. It's about what happened to that landscape and to the American dream," Keener-Mikenas said. "Ultimately, it's about how we are all one family. Earth is our homeland."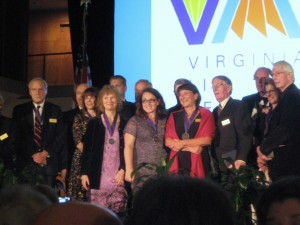 Keener-Mikenas picked the title for Homeland long before the United States Department of Homeland Security was created. Although the meaning of the word "homeland" has shifted because of that association, she decided to keep the title. "In a way, that is what I'm talking about. Homeland security is about saving the planet, but saving it in an ecological and spiritual sense, not in a military sense," she said.
The Library of Virginia Literary contacted Keener-Mikenas in August to notify her that she was a finalist for the statewide poetry award. She was excited, but also nervous—the other two finalists included a 2006 Pulitzer Prize winner Claudia Emerson and David Huddle, a well-established author who won the Library of Virginia prize for fiction in 2012. Winning the award gives her confidence for her next book of poems, which she is editing now.
This past weekend, Keener-Mikenas gave a poetry reading and panel presentation and participated in the awards gala in Richmond.
The Library of Virginia presents the annual awards to showcase and honor authors who write in Virginia, or write about Virginia topics. "Virginia is home to many authors whose works have enriched our lives and filled our libraries," the state library's website says. "The Library is proud to present the Annual Library of Virginia Literary Awards as a way of thanking these authors and celebrating the power of the written word."
Tags:
poetry, staff