June 27, 2013
Student Center is strengthening community on campus, Summer Research study shows
Randolph's new Student Center buzzed with activity late into the night after an opening ceremony earlier this year. Students enjoyed food from the Skeller; socialized in the new commons area; played ping pong, pool, and video games; tried out a new dance floor; and exercised on state-of-the art fitness equipment overlooking the majestic Blue Ridge Mountains.
Amidst all of this excitement, Tsubasa Watanabe '14 looked around and saw a research opportunity.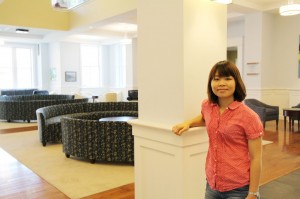 Tsuabasa Watanabe '14 focused her independent study and a Summer Research project on Randolph's Student Center.
Watanbe, a sociology major, frequently ponders questions about how society functions and how people integrate with each other, particularly in the Randolph College community. As the $6 million Student Center renovation drew to a close, she proposed an independent study and Summer Research project that would examine the way the center impacts campus life.
"I thought maybe this is a chance to learn the answers to daily life questions through a scientific approach. That's research," Watanabe said.
Watanabe spent part of the spring semester observing how people interacted in the Student Center. She took note of the demographics of those using the student center, the activities they participated in, and with whom they interacted. She followed this with a survey that asked students questions about how they use the Student Center.
While analyzing the data this summer, Watanabe has determined that the new facility has served to strengthen community interaction on campus.
"The Student Center is really encouraging a sense of community," Watanabe said. "I think it's doing this very well because many people, according to the survey data, come to the Student Center alone, but they find someone here. It's a nice place to just drop by and chat with people."
Some survey responses indicated that sharing such a nice facility inspires students to treat the center—and each other—with respect, Watanabe said. "Since this is new and everybody likes it, everyone wants to keep it clean and nice. That also is creating a sense of community by making something symbolic for everyone to share on this campus."
Watanabe is still analyzing some of the data she collected to learn more about the interaction between different demographic groups. She hopes her research can result in suggestions that will help more people use the Student Center and create a stronger community among the diverse student body.
"Many people have already found that they can do so many different things in the Student Center: they can eat, talk, play games, and study," she said. "Having that kind of place is really nice. As many people do that, there are more opportunities for different people to get to know each other and find something in common."
Tags:
sociology, summer research, summer research 2013