February 7, 2013
Randolph students present at energy and sustainability conference
A recent statewide energy and sustainability conference included presentations by Randolph students that gave insight into ways to save energy.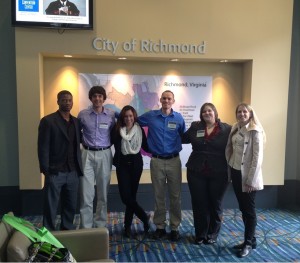 Karin Warren, environmental studies professor and the Herzog Family Chair of Environmental Studies, took a group of students to the Virginia Commonwealth University Energy and Sustainability Conference. More than 600 students and professionals in fields related to energy, sustainability, and the environment were present. Randolph was the only liberal arts college with students giving presentations, Warren said.
Adam Eller '13 presented the results of a research project he conducted with Brooke Edwards '13 and Lauren Dees '13. Their project, "Thermal Mass Artwork," examined the possibility of using a sculpture to absorb heat from the sun. This helps to cool a home during a summer day or release heat to warm a home on a winter night.
Eller demonstrated this concept with a clay sculpture he made. The sculpture features the face of a native American and a village with homes and walls made of clay, honoring the fact that some native American villages made use of had a similar cooling and heating effect.
Ire Adeleye '14 and Luisa Poveda '13 presented a video about The Red Door, a student-run coffee shop that uses sustainable practices, serving fair-trade coffee and hot chocolate and encouraging customers to bring their own mugs.
Tags:
efficiency, energy, environmental science, environmental studies, environmental sustainability